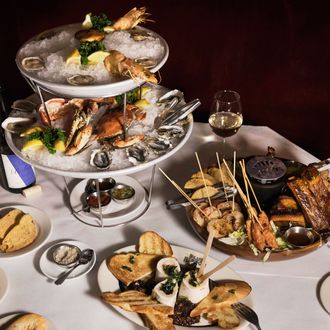 Blue Ribbon signatures: raw-bar selections, a pupu platter, and bone marrow with oxtail marmalade.
Photo: Liz Clayman
On Tuesday, November 3, 1992, two momentous events took place: Bill Clinton was elected the 42nd president of the United States and the original Blue Ribbon Brasserie opened at 97 Sullivan Street. Chefs and owners (and brothers) Bruce and Eric Bromberg vowed to stay open until 4 a.m. and serve an eclectic menu of the food they wanted to eat: oysters, bone marrow, pupu platters, and fried chicken were all available. At the time, this simple idea was revolutionary — and the restaurant cultivated a clientele of regulars that included celebrities like Mariah Carey and Jerry Seinfeld, as well as the chefs who were, at that time, redefining restaurants in New York: Tom Colicchio, Mario Batali, Jean-Georges Vongerichten, Jonathan Waxman, and more.
There are now more than 20 Blue Ribbon restaurants scattered around the country, but that original location is still on Sullivan Street, and it remains almost entirely unchanged. On the occasion of its 25th anniversary, Grub Street talked to the people who were there, and who helped turn Blue Ribbon into one of the most successful restaurants of all time.
Bruce Bromberg, co-founder of Blue Ribbon Restaurants: We opened the Crystal Room in May 1992, and it was clubby and fancy. The color scheme was mauve and green, and it had a Grecian mural on the wall. The window was painted, so you couldn't see in. Literally, there were golden arches, like McDonald's, except more Grecian in style.
David Brown, manager, Blue Ribbon Federal Grill: It was in the exact same space, but it was an entirely different concept than Blue Ribbon. It had a more precious quality about it, with chandeliers and murals. The food was great, but it was a little fancier. And nobody would come in.
James Shrum, bartender and partner, Blue Ribbon Brasserie: The Crystal Room was a grand failure. It lasted around four months. What we all learned is that it's never just the food. Eric said he felt that he gave up the idea of what he and Bruce would like and conceded the front of the house to his partner.
Kristopher Polak, partner, Blue Ribbon Restaurants: The best night of the Crystal Room was the closing night. We took care of everything. We fed everybody. We played whatever music we wanted to play. Everybody let their hair down and had a good time. That was pretty much when we decided that, yeah, this is what we need to do. We need to make a place that's fun, and where people will want to come seven days a week.
Ellen Bromberg, co-founder of Blue Ribbon Restaurants: Eric and Bruce had this crazy idea to have this really big menu. We couldn't explain what kind of restaurant it was, because they just wanted to make dishes that they wanted to eat, that they remembered from their childhood.
Bruce Bromberg: As kids, we went to this terrible Chinese restaurant in Morris County, New Jersey, called Oriental Yum Yum. They had a pupu platter, which we'd never heard of or seen before. We lived in a strict household, and no one messed around at the dinner table. So to be able to go to a restaurant and play with fire and cook your own food was mesmerizing.
Polak: When we were working on the menu, we went out to eat at a diner. It was one of those giant menus that had six pages in it, with 200 items. Eric was like, "I bet they can't make everything on this menu." And I was like, "That's a bet that's gonna hurt everybody! Let's see what they can do." Everything we ordered, they made, and there was never a strange look. It wasn't exactly the inspiration for Blue Ribbon's menu, but it was a part of it.
Ellen Bromberg: When Eric was working in other restaurant kitchens, he would be done around 11:30 p.m., and we would constantly want to meet up and have a date, spend some time together. There wasn't any place you could go to eat after 11 that was a full-service restaurant. There were several ethnic places you could go that were fun. Lucky Strike had a late-night bar menu, but it wasn't fine dining.
Drew Nieporent: There was the hot restaurant in the Meatpacking District, Florent, but you couldn't get in. They were catering to a fashionista crowd.
Wolfgang Puck: It was hard to find a restaurant in the city where you could get great late-night food. There were, of course, all the city staples, but they were all closing their doors by 11 p.m.!
Bruce Bromberg: So we decided to stay open until 4 a.m. It was: Stop listening to everyone else's rules. It was not having our parents say it's time to go to bed. It was a jump off the deep end.
Nieporent: I grew up in New York City, and that neighborhood was desolate. My father would take us to an Italian restaurant one block around the corner. I remember thinking to myself, "Who knows that this street exists in New York City?"
Ellen Bromberg: Our block was really part of Little Italy, and there was an actual social club with mafia people on our block, who fortunately seemed to respect us and saw us working hard, and for the most part left us alone. But we had a few run-ins. Back then, the mafia was known for shaking down local businesses. But we didn't have anything to offer them. I had to have a sit-down with the main guy. We had an espresso at the club. But it was okay.
Shrum: Whomever Ellen sat down with and whatever was said, it worked.
Ellen Bromberg: We were open from 4 p.m. to 4 a.m. from the beginning, and it took at least eight months, if not longer, until anybody came in after 11 o'clock. Every single night we sat there. I remember complaining, "Ugh, it's so cold out. I'm so tired. No one's coming. Can't we go home?" And Eric was like, "No. Never. Not one time are we closing before 4. If one person comes, then we blew it."
Brown: I distinctly remember twiddling my thumbs at three in the morning. That first year, there's no doubt we were sitting in the back with our legs crossed, going, "Hmm."
Bruce Bromberg: One night it was snowing and no one had walked in since 9:30. We decided we would close at 2:30 or 3 a.m. if no one showed up. I went downstairs to print a closed sign, and as I came upstairs and was about to put it on the window, a van pulled up. Out of the van poured 14 people, including Charlie Trotter. He'd done something at the James Beard House. Charlie said, "Drew told us we should come check you out. Can you do a special dinner for us?" He ordered one of everything on the menu without looking at it, and they didn't realize how many items were on the menu. They were the only people in the restaurant and partied until five or six in the morning.
Mario Batali: I had never seen anyone order the whole menu before, but thought it was a sign of greatness.
Bruce Bromberg: That was the turning point, where the word started to get out to all the chefs.
David Burke: The ongoing joke was that Mario and I put a couple of Blue Ribbon kids through college, because we were there a lot. Back before that, we didn't meet other chefs. There wasn't a place to go, unless you were invited to an exclusive event. So there was energy and excitement about going in there and hoping to see somebody. The people that went to Blue Ribbon were the fun chefs. It was like an adult tree house. It was like a playground. It was like a clubhouse. It was also a place to recruit.
Anita Lo: I was really young at that time, and they were sweet to me. I was kind of a nobody — I was just a cook at Chanterelle, which was a great restaurant, but they just were really nice guys.
Batali: The first time I went to Blue Ribbon, I saw Alonso shucking oysters and the beer sign, and I knew I had to go in.
Nieporent: That guy, by the way, was one of the greatest oyster shuckers I've ever seen in my entire life. He is a legend.
Ellen Bromberg: Drew Nieporent spread the word pretty quickly. He was telling everybody to come.
Nieporent: I told everybody, because, I joke, I was the mayor of Tribeca. I liberally recommended Blue Ribbon, especially if they were out-of-town chefs doing events, because it was the place to go after midnight. I vaguely remember either referring or bringing Gael Greene or Ruth Reichl. It was probably maybe more of a referral, because they consider us the enemy, so they don't necessarily want to go out with us.
Bruce Bromberg: Chefs were welcomed and cared for. This was their club. It was an inner sanctum of chefs, because there weren't a ton of us in 1992. It's not like today where there are thousands of people pouring into the industry. We had Jean-Georges and Tom Colicchio. Jonathan Waxman sitting at the bar all night. We were basically the clubhouse for the James Beard House. Everyone who did an event there would come straight to us. The whole dining room would be interacting, with people passing food around. It was interesting, because it was before the rock-and-roll celebrity-chef world that was coming.
Ellen Bromberg: They weren't the celebrities they are now, because they were just guys working in their own kitchens, trying to make their own way.
Bruce: One of the first times my brother had left me in charge of the restaurant, we had an unruly, drunk table that was harassing Ellen. They were local guys from the social club down the street. I came upstairs and asked them to leave, and one of the guys pulled out a gun and pointed it at my head and told me he was going to blow my head off. It was an intense moment. Mario Batali and David Burke were sitting at the table behind where this was going on and sensed there was a problem.
Burke: From my recollection, we probably said, "Listen, let's all have a drink. Calm down. There must be some miscommunication. It's only food." I don't know what this guy's beef was, but we looked at Bromberg's face and could tell something had changed quickly. I'm sure I was scared, but the adrenaline kicked in, and you've got to do something. When you're out until three in the morning, shit happens.
Daniel Boulud: The place was like a social club for chefs. After midnight, you could see the entire industry there. My first visit there was in 1992, and every time I went there, it was always because there was a party, either before or after going to a club like Palladium or Danceteria. You almost felt like Blue Ribbon was created for chefs after work.
Jonathan Waxman: You realized it was sort of the Brombergs' den of iniquity. They welcomed you to their party and what was going on.
Jean-Georges Vongerichten: I was going there probably once a week, especially the first six months. You'd always see somebody goofing around with Daniel Boulud. He was the life of the party. You know, chefs, after a couple glasses of wine, they like to do funny things.
Bruce Bromberg: Mario Batali had just arrived from Seattle and was there literally every night of the week, hanging at the oyster bar or down in the kitchen. He would bring me some special beverage from the bar; he'd come downstairs with a brown paper bag and open it up, and we'd create dishes in a certain way and I'd send 'em up. We also had oyster-eating contests at the bar with Mario and Tom Valenti. Everyone would bring wine, and we would sit there and drink it.
Batali: I definitely ate my share of oysters, but I don't remember eating them competitively. I think I was just a champion oyster-eater, in general.
Puck: Whenever I had a friend in from out of town, I often took them to Blue Ribbon — even the most famous chefs of the time like Roger Vergé.
Bruce Bromberg: Wolfgang Puck brought in Roger Vergé. I sent them a veal chop, but I forgot to take the piece of string off of the chop. Just the string came back to the kitchen. Wolfgang said, "Excellent meal, but you might want to remove the string."
Batali: It was the beginning of the Food Network. It's where all the cooks and chef became famous. Oddly, there were "groupies" that hung out there because it was a chef hangout.
Vongerichten: One night I drove there in my car, and there were ten people at the door waiting for tables at one o'clock in the morning. It was 15 degrees outside. They told me it was going to be 40 minutes. I wasn't going to wait in the cold, so I waved at Alonso over by the oysters and clams, then went back in my car and put the heat on. Ten minutes after, Alonso comes out with a full tray of seafood! Oysters, clams, shrimp. And I ate it in my car while I was waiting. Then they came to get me, and I said, "You know what, I'm going to finish my meal in the car. Can you get me the fried chicken and bone marrow?" So I had my Blue Ribbon meal in my car. It was the ultimate pampering.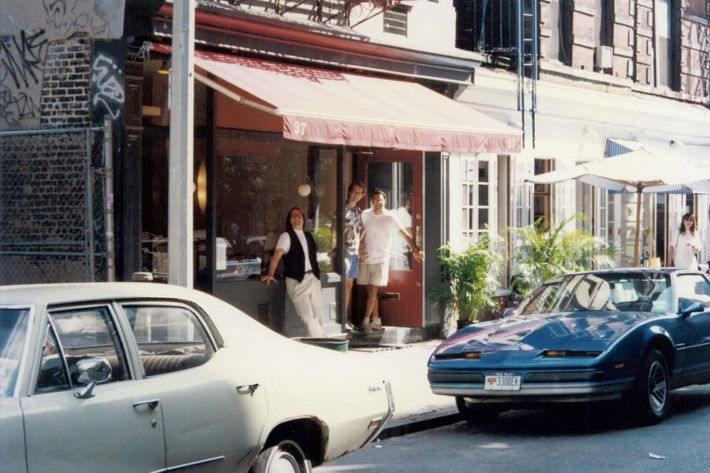 Ellen Bromberg: When we got busy, which was almost a year into it, everybody wanted to come at seven or eight o'clock. Back then, people were notorious for making several dinner reservations and then deciding where they wanted to go. So I thought, "What if we just don't take any reservations?" It seemed so diplomatic. In my mind, we had to be full or we were not going to make it. We had to have paying customers, as much as we could. So I felt like if there was an empty seat, you can have it. If there's not, you can wait. Or not. I didn't think people would wait. And then it got crazy, with people waiting hours.
Polak: There was definitely the art of how to let people know it was an hour-and-a-half wait without being rude about it.
Nieporent: Robin Williams was my partner in San Francisco at a restaurant called Rubicon, and he and his wife wanted to go out to eat somewhere in New York last-minute. I call Blue Ribbon there, and I go, "Listen, I got Robin Williams who wants to go out tonight. I'm recommending he go to your restaurant." Keep in mind, this was at a moment in time when Robin Williams was at the height of his career. And there's like a pregnant pause, and they go, "Well, we don't take reservations." I'm like, "Of course, that's why I'm calling you, because it's Saturday and you can fit him in. He wants to come in at eight o'clock." And they go, "No, I don't think I can do it." I go, "Are you crazy? This is Robin Williams!" And he says, "Hold on one second." He comes back to the phone and goes, "All right, we've figured this out. We're going to seat some friends of ours at the table until 7:45. Now, he might have to wait at the bar for a little bit of time, but we'll work him in." I said, "Listen. He's a recovering alcoholic. You're not going to put him at the bar for a little bit of time. Either you want to take Robin Williams or not." And, of course, they took him.
Shrum: One day, at two o'clock in the morning, the manager gets a call from Mariah Carey's driver, and he says, "I've got Mariah Carey, Jerry Seinfeld, and Warren Beatty in the car with me and they want to come in." The manager says, "Okay, great. We'd love to have them. It will be a 45-minute wait." Mariah used to come in all the time. You could actually call her a late-night regular. She's sweet and it was terrific, but that was the deal. The driver says, "Did you hear the names I told you?" And the manager says, "I heard the names you told me. It will be a 45-minute wait." And so they came, and they waited in the car for 45 minutes because there was no space.
Polak: Mike Myers used to come in right when we opened and have fried chicken and hang out. That was a big deal for a lot of us.
Shrum: Denzel Washington was sitting there once and a woman didn't recognize him — he had a hat on. She thought he worked there or something. And she was like, "Can you tell me where the bathroom is?" And he laughed and pointed to the bathroom. It was only later that she realized she had had a nice little chat with Denzel, and she was like, "What?" I'm talking to Denzel Washington?!"
Polak: Quentin Tarantino got into it with a customer who was staring at him. It was late, and they were the only tables in there. He's like, "What are you staring at me for?!" And I walked over to him, and I was like, "He's staring at you because you're Quentin Tarantino. So maybe tone it down a little." I think the customer was more shocked than anything else. At that time of night, you never know what people's days have been like or what state of mind they're in.
Dan Fleming, manager, Blue Ribbon Brasserie: The phrase I heard daily from Eric and Bruce was, "Is everyone happy?" They wanted to create a space to forget about the stresses of the day, to turn around a bad day, to elevate an already great day. Now I'm meeting the children of the early customers who are now coming in on their own.
Waxman: They were a bunch of friends that opened a restaurant together. Some of them were brothers and some of them weren't. But they all had this passion for this kind of environment and this kind of food. They wanted a place that was like their loft or apartment where friends came to hang out. They didn't care how long you stayed and when you went home, as long as you were happy and had a drink in your hand. That was their philosophy. They wanted it to be incredibly personal, and for it to be like their living room. And their living room was open until the wee hours.
Bruce Bromberg: There's a fine line between throwing the party and being the party. Whether we've gotten that right, I don't know, but it's always been a good party.