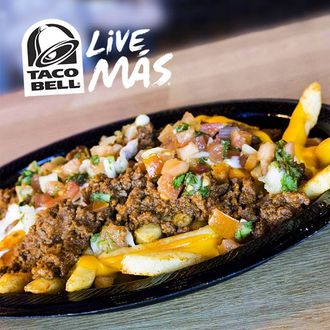 England's version, but close enough.
For reasons that clearly have nothing to do with menu consistency or health concerns, fast food's most revered side item spent years MIA from Taco Bell's menu. The chain halfway corrected that oversight last year, when it started testing French fries, but only in the Southern California market. Soon, they could be hitting Taco Bells nationwide.
The "development," as far as these usually go, is a weird one. It involves Blink-182's bassist Mark Hoppus and Twitter. Hoppus told followers earlier this week that rival Del Taco's fries were the main threat to his Bell loyalty. No doubt overjoyed at this godsend — a way to reach a captive teenage audience by merely replying — the chain responded with one sentence and an emoji that casually implied that Taco Bell French fries not only exist (or used to, briefly), but might even soon be on menus, in case, you know, his 3 million followers were curious:
Taco Bell tested them at the end of 2016 near the UC Irvine campus. They were run-of-the-mill for fast-food fries, except for the fact that they were being sold by a Tex-Mex chain. They came two ways — dusted with a habanero seasoning, or as cheese fries. This so-called "loaded" version already exists in other countries (Canada's verges on full-fledged poutine), but Americans will have to live with an iteration that basically recycles Nachos Supreme toppings: beef, nacho cheese, sour cream, and tomatoes.
That probably won't slow Hoppus down. He was thrilled by the news, enough to see how far his rock-star fame can still get him in the fast-food world: