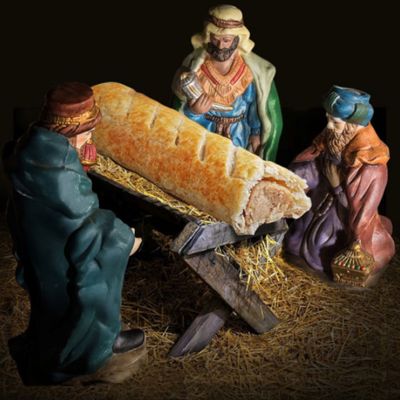 You don't remember that part about gold, frankincense, and pastry?
Photo: Greggs
England's largest bakery chain, Greggs, has unveiled its first-ever Advent calendar, but there's something fishy (or should that be porky?) about the promo ad: It's a nativity scene featuring the three wise men kneeling around a manger with no baby Jesus. In his place, Greggs has put an enormous sausage roll.
The spoof has upset Christians, who say this substitution is no laughing matter — they've called Greggs a "sick" place full of "cowards" for portraying the Son of God as a non-kosher pastry that's mysteriously got a bite out of one end. The U.K. Evangelical Alliance argues the whole thing is a gimmick that's an attempt at "manufacturing a scandal to sell baked goods."
The new calendar reportedly includes a variety of other strange "Merry Greggsmas" scenes, like a woman under some mistletoe kissing one of its famed Festive Bakes. Nobody seems to hate these yet, but Greggs at least regrets trying to be funny about baby Jesus. "We're really sorry to have caused any offense, this was never our intention," the company said in a statement.
The roll has resulted in calls to boycott the chain's 1,700 U.K. locations. But Greggs can at least take credit for inspiring some clever Twitter jokes:
Or maybe protesters should consider that this may be a Da Vinci Code–level Advent calendar: