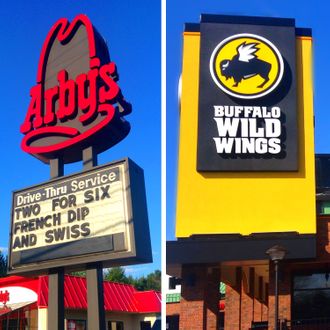 Vegans' new greatest enemy.
Photo: Mike Mozart/CC/flickr
The protein-lovers who run Arby's will buy sports-bar chain Buffalo Wild Wings for a cool $2.9 billion, the two companies announced today. These are of course the two chains that sport the unsubtle slogans "We Have the Meats" and "Wings, Beer, Sports," so the pairing is really something of a natural fit.
The money for the acquisition is technically coming from Roark Capital, Arby's parent company, which has agreed to pay a 34 percent premium on the price of B Dubs' stock since news of a potential deal leaked two weeks ago. Appropriately, the Atlanta-based private-equity firm happens to be named after Ayn Rand's "ideal man" in The Fountainhead. Many of its portfolio companies fit the bill — Arby's best promo in recent memory pandered deer meat to hunters, the CEO of Carl's Jr. was President Trump's first Labor secretary pick, and pizza mogul Jimmy John Liautaud is a conservative hero. It also owns Massage Envy.
Under the buyout's terms, B Dubs will be subsumed as a subsidiary of Arby's, but remain an independent brand. It's been a tumultuous year for the wing chain: Because of a wing shortage, it discontinued its famed half-off special on Tuesdays, and it also lost a fight with activist investors who accused executives of committing an "astronomical error" in their SEC filings, eventually forcing the resignation of longtime CEO Sally Smith.