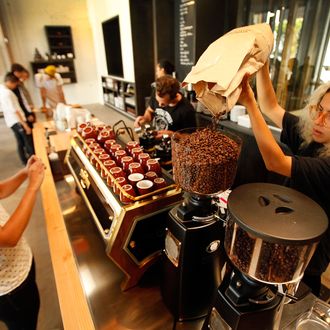 Numbers show traffic is in decline.
Photo: Al Seib/LA Times via Getty Images
In just half a decade, coffee nerds have gotten firsthand experience with the so-called paradox of choice: Knowing where to find an AeroPressed single-origin used to be a badge of honor; now, it's available at Starbucks. While that's undeniably convenient, it seems America's overabundance of good coffee is starting to have some drawbacks for third-wave shops: According to numbers market-research firm Mintel gave The Wall Street Journal, the U.S. has about 33,000 coffee shops — a 16 percent bump from five years ago — and the paper reports this boom is "starting to hurt business owners." When better, fancier coffee is sold everywhere from McDonald's to 7-Eleven, time-crunched consumers have less reason to visit traditional (and often more leisurely paced) shops. Mintel notes that the latest threat isn't even Starbucks and Dunkin' Donuts so much as the plethora of bottled and canned options at grocery stores. The number of new coffee shops in America is expected to grown by around 2 percent this year, the slowest growth rate since 2011.
Rent in cities where third-wave coffee is huge, like New York and San Francisco, is also climbing at doomsday rates, plus wages are going up for workers. That's at least one reason food conglomerates that can afford the high overheads are swallowing up smaller companies like Blue Bottle, Stumptown, and Intelligentsia — brands that once made fun of Starbucks, but now sell their beans and bottled lattes in grocery stores.
The big chains aren't immune, either, though. The foot-traffic problem is serious enough that even Starbucks is struggling to keep people from wandering into one of the approximately million other places that sell decent coffee on any given city street. Dunkin' Donuts, meanwhile, has plans to redesign stores so they better cater to "on-the-go consumers," and also says it will open fewer new stores this year. "People are getting more and more impatient and lazy, you could argue," Dunkin's CEO Nigel Travis explains to the Journal, adding that he foresees "a shakeout among smaller chains."