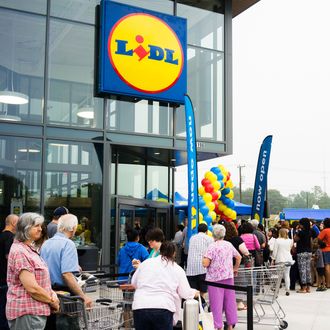 Just another day at a Lidl grand opening.
Photo: Benjamin Boshart/Bloomberg via Getty Images
Maybe it's time to start caring about Lidl, the German discount grocer that's invading America one small mid-Atlantic town at a time? Since the first U.S. stores opened in June, the company's 89-cent pineapples, $1.80 gallons of milk, and other incredibly wallet-friendly items have been routinely drawing grand-opening lines so long you'd think they were giving away iPhone Xs.
New Jersey's Vineland is the latest small town to get a location, and The Wall Street Journal reports patrons started lining up in the cold at 4:45 a.m., about four hours early. The queue kept growing until it was "around the corner," and included first-time shoppers who found the wait "exciting" and said things like, "I'd rather go to a grocery-store opening than a bar or a club."
With hundreds outside, though, you never know — maybe one of them would want a dance-clubby shopping experience at their state's first Lidl. So the company's Vineland team was apparently ready just in case:
The crazy atmosphere isn't exclusive to Lidl (the Journal points out how people practically foam at the mouth over a new Wegmans), but the fanaticism is still somewhat shocking considering most Americans can't even pronounce the brand's name correctly. (It rhymes with "beetle.") When a location opened last month in Lexington, North Carolinians got in line at 1 a.m. with blankets and lawn furniture:
Here's a separate scene outside a Georgia store that opened in September:
And just yesterday, this happened at a different grand opening in Raleigh:
Lidl has laid out has plans for another 300-plus stores by 2020. The company also brags that when a new one opens, other grocery stores in the area are forced to lower prices by as much as 30 percent to stay competitive.