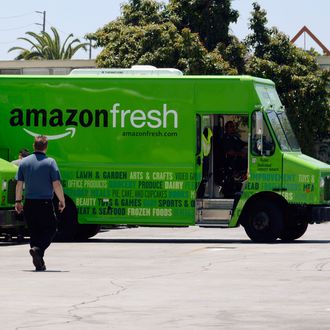 Probably a good sign for Whole Foods diehards.
Photo: Kevork Djansezian/Getty Images
In a somewhat surprising move, given the fact it just bought Whole Foods, Amazon has announced plans to scale back its grocery-delivery service. It told customers yesterday in at least five states that they have until November 30 to place their final AmazonFresh orders — which may or may not be long enough to find another way to get next-day delivery on a box of kosher, gluten-free waffles; low-carb, ketogenic meal-replacement mix; and a K-Cup sampler pack.
The reduction will affect certain ZIP codes in New Jersey, Pennsylvania, Delaware, Maryland, and California. Outside of these states, AmazonFresh is also currently available in New York City, D.C., Seattle, Chicago, Boston, Miami, Dallas, and Denver. It's unclear which specific areas inside of those states are losing service (for example, seven regions in California have it), but a company rep told Recode that shoppers in big cities like New York, L.A., Chicago, and Philly have nothing to worry about right now. She added that the changes are "unrelated to the Whole Foods acquisition," but that was as specific as she got.
This could be another reminder that the AmazonFresh model has never been a knockout. It debuted in Amazon's home of Seattle back in 2007, but didn't expand for another five years. It's not a service that's even available in all parts of the cities it serves. Amazon previously tried selling its Go brick-and-mortar concept as a potential physical pickup site for AmazonFresh, but it's since sort of put Go on ice. Amazon has tried pushing AmazonFresh as the place to get quick delivery of all the new Whole Foods products, and while yanking it from some markets won't help Prime members do more of that, there is the fact that Whole Foods' 400-plus locations look like dandy AmazonFresh pickup sites. Not surprisingly, just last week Amazon suggested that shoppers might start seeing "more cooperation" between Whole Foods and its other food arms.