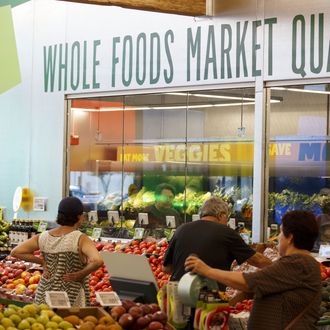 Go while aisles still look like this.
Photo: Patrick T. Fallon/Bloomberg via Getty Images
Whole Foods bargain hunters can start finding Thanksgiving recipes that don't involve organic bananas or avocado, because Amazon announced this morning that prices just dropped on a bunch more groceries. The cuts, which began today, expand discounts that Amazon rolled out on 15 items after the acquisition. The very advantageous focus this time is on "holiday favorites," and the big discount is for turkeys — you can get an organic one for $3.49 a pound, or a non-antibiotic for $2.49 a pound.
Amazon is also rewarding Prime members with an extra 20 percent off turkeys. There are tons of other reduced-price items, including seasonal ones like canned pumpkin, broccoli, Russet potatoes, and sweet potatoes, and CEO John Mackey adds in the release that he and Amazon are "just getting started" with the Whole Foods discounts, so probably get ready for some killer Black Friday Kindle deals.