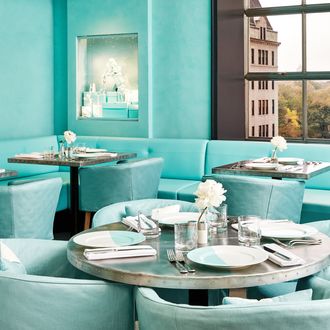 Very true to the story.
Photo: Tiffany & Co.
It only took 56 years, but Tiffany & Co. finally realized it could exploit a certain movie scene involving its Fifth Avenue flagship store and food. In Breakfast at Tiffany's, you'll recall that Audrey Hepburn's character haplessly window-shops while sipping cheap coffee and munching on a croissant, but the jewelry company exercised a little artistic license with its first in-store "dining concept." The Blue Box Café opened on Friday as a way for fans to re-create Hepburn's iconic meal — their homage, however, begins with a fourth-floor view of Central Park and can end with $49 finger sandwiches. Business is reportedly very brisk, but consider that another possible strike against it. The New York Post summed up its experience in a headline that reads, "Holly Golightly Wouldn't Approve," and it's easy to see why:
1. The "uniquely Tiffany" menu is … boring. It's predictable and definitely not symbolic of Golightly's movie-long quest to escape confinement, despite promising an "inspiring" setting for people who "always dreamed of having Breakfast at Tiffany." The press release promises "reinvented" classic New York dishes and locally sourced ingredients, yet the Times says lunch options include poached salmon with caviar and smashed potatoes, and something called the "Fifth Avenue salad" (lobster, grapefruit, and poppyseed dressing).
2. Holly wouldn't be able to afford it anyway. Breakfast starts at $29 — that includes the obligatory croissant and cup of coffee, plus a choice of avocado toast, truffle eggs, smoked-salmon bagel, or buttermilk waffles. This is the cheapest option. An espresso is $5, the two-course lunch costs $39, and tea service will run you $49.
3. The wait might be two hours. The Post estimates the wait for a seat was between 40 minutes and two hours on the day of the grand opening. Don't expect this to get much better as Christmas gets closer and the city fills with even more tourists. "Fans can enjoy their very own breakfast at Tiffany's," the Post jokes, "if they don't die of hunger first."
4. The absurd "everyday objects" line Tiffany paired it with. The rest of the restaurant's floor touts a new Home & Accessories collection you can peruse while contemplating Golightly's simple elegance. Think of it as "beautiful" daily-use items at Tiffany's prices — they include a $1,500 coffee can, $250 pencil sharpener, and $10,000 bird's nest.
5. It looks like a Tiffany box. If you're claustrophobic, this might be your get-out-of-jail-free card. Tiffany did almost the whole café — walls, plates, banquettes, even salt shakers — in the trademarked robin's-egg blue, and a design director tells Vogue the point was to give it "the feeling of being inside a Blue Box." Tiffany seems to have forgotten the one thing Holly Golightly made clear is that nobody could ever put her inside a box.