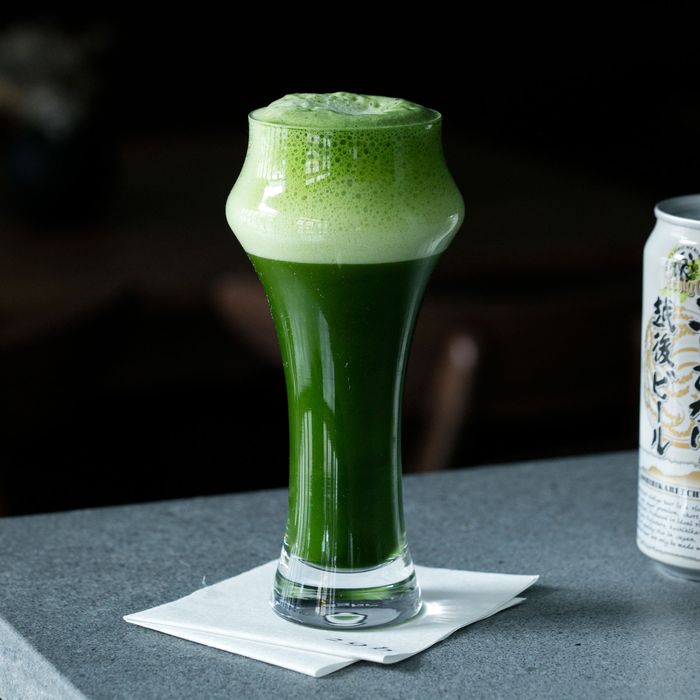 The slender glasses could be full of green juice, or something you might drink on St. Patrick's Day. The beer, a rice-based lager from Japan's Echigo Beer Company, is very green, but the color doesn't come from food coloring. It's matcha, first whisked with a bit of the beer in a traditional tea bowl before getting poured in the glass and topped off to create a thick, frothy head. The combination amplifies the tea's natural chocolate flavors and adds heft to the crisp beer.
The matcha beer is served at a new tea bar in the East Village called 29B. And while it is sure to be the bar's biggest Instagram success story, it's not actually the main draw. 29B has an impressively diverse menu spanning categories of tea rarely seen in New York. There are Korean green teas, less bitter than Japanese styles with deceptively nuanced sweetness; a range of single-estate Darjeelings that offer opportunity for comparative tastings; and almost a dozen caffeine-free tisanes that involve infusions of mistletoe, mulberry leaf, and orchidlike white lotus. While you can't get a matcha latte and sweeteners are verboten, you can get some bits of Okinawa's renowned roborant black sugar to nibble while you drink.
You can also expect pots of charcoal-roasted oolong tea, biodynamic wines, and glasses of sake. And tea specialist Stefen Ramirez is really excited about the sparkling houjicha. "We cold-brew the [roasted green tea] for two to three days with a super high ratio of tea, then carbonate it to order and serve it in a crystal wine glass," he explains. "You have to remind yourself that it's an alcohol-free drink. It has the same consistency and aroma and taste structure of something alcoholic, and visually, it's just like drinking sake or wine."
If it sounds like there's a lot going on at 29B (the address of which is 29 Avenue B), that's because there is. New York's teahouse scene has ballooned in recent years, from studious sanctuaries to casual cafés, but 29B is something else entirely: a tea bar — emphasis on "bar" — that's open until 11 p.m. or midnight, with beer, wine, sake, and savory snacks joining a menu of 30-plus teas from countries like Korea and India. Shelves of bespoke ceramics and a sleek U-shaped counter are right on point with Tokyo's avant garde tea bars, while the ambient sounds of Kamasi Washington and Hyukoh remind you that you're in New York.
For Ramirez, who's been running Tea Dealers for three years as an online business and a (now closed) pop-up shop in Williamsburg's 1 or 8, 29B also fills a crucial gap in the city's nightlife. "You need something social besides a bar or club with loud music. Here you can drink whatever you want, with or without caffeine or alcohol, and an air of sobriety. But it's not a library. We want an energy that's refreshing and fun." By day, the shop's 13-seat counter and wall of four-tops also function as a quiet retreat for the well-dressed LES set, and several nooks display one-of-a-kind Korean and Japanese ceramics, along with elegant glassware from the Japanese brand Sugahara.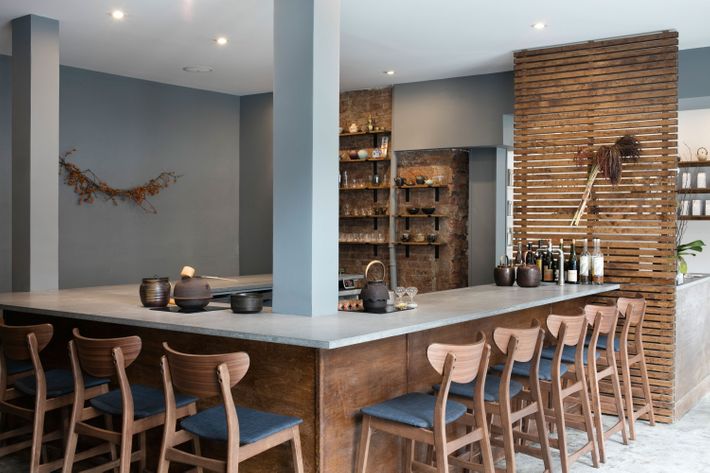 Newcomers can start with guided tastings ($35 to $60), which include a trio of teas plus sweet pairings, or you can order by the pot, which starts at $7 and climbs as high as $30 for rare high-elevation or shade-grown offerings. Most pots fall around $15, and in classic Chinese and Japanese style are served in small cups of just a few ounces, but with free refills. Fine loose-leaf teas like these can be resteeped anywhere from 2 to 12 times, with each brew yielding new flavors and textures. "We'll go until the tea gives up or the customer gives up," Ramirez laughs.
There is some food, too. A small, rotating menu of savory snacks is designed to enhance tea's natural sweetness instead of clobber it with added sugar. Expect Japanese-style pickles, sashimi made from fish flown in from Tsukiji market, and Korean dumplings in the coming weeks.
Ramirez explains that the approach is in line with the teahouses he loved visiting during a two-year stint in Kyoto. "They're not dessert places — they do savory food and local drinks," he says. "We want to show people the flexibility of tea, and how easy it is to integrate it into your life on an everyday basis."