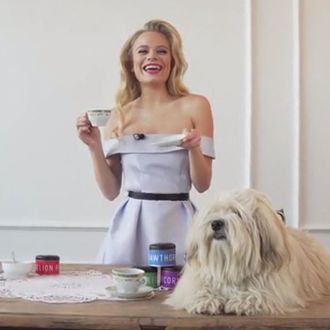 At least the promo shots are cute.
Photo: SHOO
An enterprising London businesswoman says she's created "the first coffee in the world suitable for dogs." Agota Jakutyte, who already co-founded Shoo, a beauty company for pets, initially alarmed several journalists when she cold-pitched her product. Rooffee may roll off the tongue onomatopoetically (ruff!) and technically be a portmanteau of the words roots and coffee, but unfortunately it also looks about 99 percent likely to be a name-brand version of the date-rape drug.
There are some additional concerns presented by the first-ever dog coffee. First, ASPCA warns that coffee is among the things people shouldn't ever, under any circumstances, feed their dogs, since it can cause vomiting, seizures, and even death. Luckily, Rooffee is more of a tea that's made from dried herbs and vegetables. Jakutyte's press release initially pitched it as "the world's first coffee type root drink for all mammals," meaning you and Fido can both imbibe right alongside the cat and your pet hamster. The plan laid out on her Kickstarter is to release "5 functional Rooffees" by December: There's Dandelion Root (for the immune system), Carrot Seed (for anti-aging), Hawthorn Seed (for heart health), Chicory Root (for digestion), and Burdock Root (for optimizing vitamin and mineral intake). Each one is "all natural, toxin free, and holistic," and ensures that you'll enjoy a "healthier and longer life with your dog." A video on Rooffee's Kickstarter page shows Jakutyte preparing some using a French press basically the same way you'd make a normal cup of coffee.
She sums the drink up as a Nordic "herbal biohack to power you and your dog," and adds that it'll also help both of you lose weight. ("Dogs are less hungry and less food obsessed.") Her Kickstarter campaign has only been live for a day, so jury's out on how it will ultimately fare, but it has raised very little — it's possible that the all-caps "ROOFFEE" that greets visitors might be causing second thoughts about backing the project. Jakutyte tells BuzzFeed that she's "too busy with my shelter dogs and entrepreneurship :)" to know what Rohypnol is, but figures she'll "probably change" the name so people are less offended.