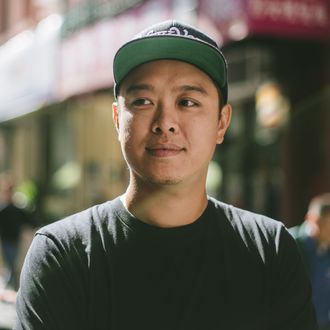 Wilson Tang is on a mission to expand his family's restaurant around the country.
Photo: M. Cooper
Wilson Tang remembers growing up in Chinatown, when Doyers was "one of those streets you don't take." Famously nicknamed "the Bloody Angle," the 67-yard-long stretch was the site of numerous shootings in a decades-long turf war between Chinatown gangs. Doyers Street is also home to the 97-year-old dim-sum destination Nom Wah Tea Parlor, which Tang's family has owned since his uncle bought the place in 1974, the same year his parents immigrated here. Little about Nom Wah, if anything at all, has changed in that time: Moon cakes and almond cookies are still sold, and the dim sum, while no longer carted around, is the same egg rolls, dumplings, and rice rolls. With its vintage ceiling, diner stools, and original tiling, the space itself also feels like a time warp, a genuine relic of ye olde New York.
In other words, Nom Wah isn't an obvious candidate to become a model of dim sum's global future, but that's exactly what Tang, who is now 38 and spends plenty of time on Doyers, wants to make it.
The timing is right. It's arguable that there's never been a better time to eat Chinese food in America. Cities like San Francisco, Houston, Pittsburgh, and others are all home to sophisticated Chinese restaurants. The list of places includes Hao Noodle and Tea and Guan Fu in New York; Mister Jiu's in San Francisco; Sichuan Impression in Alhambra, California; and cult chef Peter Chang's Virginia restaurants. Additionally, growing populations of Chinese international students at American universities have prompted the opening of noodle shops like Junzi Kitchen in New Haven and now Morningside Heights uptown.
And it helps that one menu staple is endlessly versatile, affordable, and delicious, and requires at least some specialized knowledge to be made well: Dumplings have all of the qualities that operators look for when they think about food that is built to scale. The time is right for something like a Shake Shack-ification — and Tang is among those racing to be the person who makes it happen.
"There are a lot of us throwing our hats into the ring with that. Nom Wah being one of the front-runners. I guess myself, Mimi Cheng's. There's room for that," says chef Chris Cheung, who grew up in Chinatown and now runs East Wind Snack Shop in Brooklyn. "If you're going to highlight anything in Chinese cuisine, you can't really go too wrong with dumplings."
Already, Tang has opened a Nom Wah in Philadelphia, and in New York, over the last year, he opened a fast-casual location called Nom Wah Nolita, the food-hall stand Nom Wah Kuai, and the bar-focused Nom Wah Tu with chef Jonathan Wu. He's also opening another fast-casual spot on Delancey Street, building out a Philadelphia commissary, and was, just the other week, in Tampa talking real-estate deals.
A chef who expands will inevitably talk about maintaining the authenticity of her or his cooking at each location, but Tang is refreshingly — almost surprisingly — blunt about his approach to taking the Nom Wah name around the country: "It's almost like I have to do what I have to. If it means it might water down the brand a little, you know what, so be it," he says. "Food is commerce."
If he sounds unsentimental about the family business, that may be due to his background. Tang, who is almost imposingly tall with a just-past-boyish face, didn't grow up in the family restaurant. "I was sheltered from it," he says. "It wasn't what my parents wanted me to see." Instead, he focused on school and getting a white-collar job, then graduated from Pace University in Manhattan. After two stints in the finance world, and a failed attempt to open his own bakery, he took over the original Nom Wah from his uncle in 2010. His first order of business was to give Nom Wah a tune-up, updating its severely outdated kitchen equipment and so on, as well as refreshing the website and making the whole place feel like a throwback that is nevertheless designed to serve customers in the modern age. It worked. The restaurant was reinvigorated to the point where it became a place to go, and it was used as a set location in The Amazing Spider-Man 2. Wait times can run as long as an hour during Friday and Saturday nights and weekend brunch, and even during weekday lunch, a party of four might have to wait a half-hour to sit.
"Nom Wah being the oldest dim-sum place in Chinatown, even though it's been renovated, it kind of serves like a bridge to that, to the Chinatown I grew up in," Cheung says. "I think Wilson's doing a great job of capturing what the essence of Chinatown was, is, and could be."
In 2015, Tang opened the Philadelphia outpost, essentially cloning the restaurant and shipping the whole experience down I-95: red booths, mustard-hued walls, and the exact same recipes for chicken feet, beef balls, and turnip cakes. The location is profitable, but Tang still says he isn't totally happy with how it turned out. "We did all this thinking about dropping another one in a city two hours south," he says, "but it just didn't have the same feeling — you can't fake the patina on the wall."
So, when it came time to expand in New York, Tang took a different approach. Instead of trying to replicate the original experience verbatim, he would emphasize the menu's greatest hits and, aided by new technologies, create something like Nom Wah Lite experiences in smaller locations. At Nom Wah Nolita, he's implemented cashless ordering machines and — brace yourself — extruding machines to make the dumplings. "My guys at the Tea Parlor — that's a dying breed," Tang explains. "So if I don't figure out how to make these with machines — how do I break down this labor component — then I'm going to get left behind."
The goal, Tang says, is to treat this location as something like a lab, seeing which ideas take hold with customers in order to orchestrate what you might call Nom Wah 2.0. Tang calls himself "a businessman first and a restaurateur second," and his philosophy is that sometimes people want to eat straightforward food, so why not figure out the optimal way to serve it? In many ways, it reflects what's happening at New York's other family-owned institutions. Jake Dell, the 20-something owner of Katz's, opened the pastrami haunt's second-ever location in a fancy food court. The family behind Russ & Daughters has managed to preserve the appetizing brand's old-world feel while making it slyly hip. Following the opening of two casual restaurants, they have plans for a food-hall shop and commissary.
Tang's eyes light up when he's asked about the idea of opening Nom Wahs in stadiums or ballparks. "Like David Chang with the Fukus. That stuff gets me super, super excited," he says. "I one day want to figure that out."
Whether Tang will fully figure it out remains to be seen, but the guy running one of New York's oldest Chinese restaurants appears to have as good a chance as anyone. Isn't it about time that you can watch the Yankees with a mini–baseball helmet filled with dumplings?