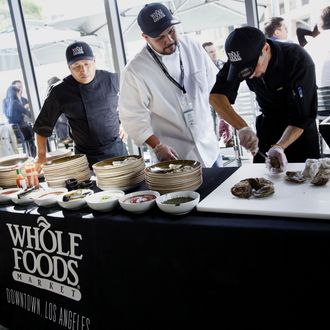 Guys, it seems you're safe for now.
Photo: Patrick T. Fallon/Bloomberg via Getty Images
When Amazon bought Whole Foods, analysts feared Jeff Bezos's growth model — easy online shopping paired with an algorithm that dangles unnecessary items "frequently bought together" — could be a death knell for the grocery chain's carefully crafted human touch. Warehouse jobs would go first, they said, followed by staff cuts at stores. However, not only are robots nowhere near the organic-banana pallets yet, but the company appears to be going beyond its somewhat tepid initial promise to "[not] use no-checkout technology to automate the jobs of cashiers." It's announced that a National Hiring Spree will take place on November 2, when HR reps will interview real human beings for 6,000 new jobs, vowing "on-the-spot job offers" to applicants who are a good fit. There are full- and part-time opportunities for people who want to be "cashiers, culinary experts, and prepared foods specialists," among other positions.
The strategy is — no surprise — lifted right from its parent company's operating manual: Back in August, Amazon held the first-ever Amazon Jobs Day to fill some 50,000 new positions with the company. It promised same-day job offers as well that included "highly competitive pay, health insurance, disability insurance, retirement savings plans, and company stock."
Whole Foods' CEO John Mackey has, in his stilted phraseology, explained the ways both companies might continue their synthesis (reportedly for starters: a retreat where top executives would attempt to reconcile their duties "with Amazon's higher purpose"), but Amazon CFO Brian Olsavsky said last week that their plans are mostly to keep molding Whole Foods into something more Amazon-like. The e-retailer is currently "experimenting with a lot of formats" for new physical grocery stores, some of which he says might integrate AmazonFresh or Prime Now, or even use Amazon Go's technology. For those who forgot, Amazon Go is the company's cashier-free brick-and-mortar store.