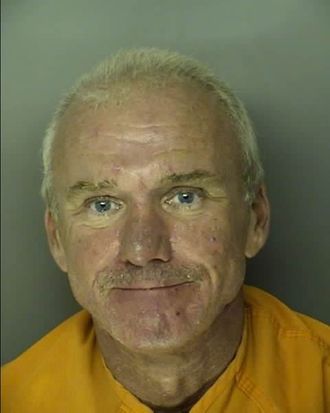 Bobby Paul Edwards was indicted by a federal grand jury.
Photo: Horry County Sheriff's Office
A federal grand jury in South Carolina has indicted a white restaurant manager on a charge of forced labor involving a mentally disabled black cook. J&J Cafeteria manager Bobby Paul Edwards and his brother Ernest J. Edwards, the diner's owner, have been accused of enslaving and abusing buffet cook John Christopher Smith from September 2009 to October 2014. The Washington Post reports that federal prosecutors argue that Edwards used "force, threats of force, physical force, physical restraint, and coercion." The charges of "attempting to established peonage, slavery, involuntary servitude, or human trafficking" carry a maximum sentence of 20 years in prison and $250,000 in fines. Edwards will also have to pay restitution to Smith if convicted.
Smith worked at J&J Cafeteria for over 20 years, starting at the young age of 12. He worked various jobs washing dishes, bussing tables, and cooking food. He says he had no issues until Edwards became manager, after that his life became horrific. From the Post's report:
Edwards would force Smith to work from dawn until late into the night, seven days a week, with little or no pay, no benefits and no vacation time, Smith alleged. Some days he would leave so exhausted and weak he had to be carried home and "physically fed drink and food."

Smith described Edwards like a slave driver. He said the manager would call him racial slurs, and threaten to "stomp" his throat and beat him "until people would not recognize him."

[…]

In one instance, Smith said, Edwards dipped a pair of tongs into hot frying grease and scalded the back of his neck. On another occasion, when Smith didn't bring food out to the buffet fast enough, Edwards took Smith into the back of the restaurant and whipped him with a belt buckle, according to the complaint.

[…]

All the while, Smith lived in squalor behind the restaurant in a roach-infested apartment owned by Edwards, according to the complaint. Smith's attorneys described the conditions there as "sub-human," "deplorable" and "harmful to human health."

Edwards allegedly told Smith that he had a bank account with more than $30,000 of his earnings, but Smith said he was never paid any of that money or given access to the account. The restaurant reported that Smith earned less than $1,000 per quarter, even though he was regularly working 18-hour days, according to the complaint.
Smith was reportedly abused to the point where he was afraid that coming forward would jeopardize his life. Smith wasn't alone in his fear. Waitresses feared speaking up and challenging Edwards, the mother-in-law of one waitress, Geneane Caines told WMBF in 2015. Caines has advocated for Smith, telling the TV channel that his treatment was "total abuse" and saying customers who "heard stuff" would ask waitresses, but they "were so scared of Bobby they wouldn't tell them then what it was."
Asked what outcome he hopes for in the case, Smith told WMBF, "I want him to go to prison."