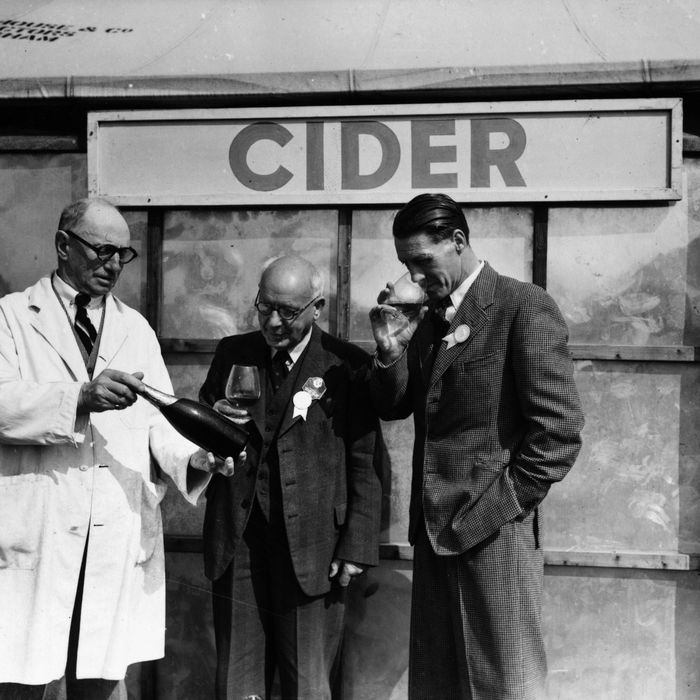 Cider drinkers have been spotted around town.
Photo: Edward G. Malindine/Getty Images
Like decorative gourds, changing leaves, and dressing up in the same pirate costume you wore for the last three Halloweens, cider is a fall tradition. Upstate New York is one of the country's cider capitals, with seemingly more and more producers cropping up every year to make beverages both traditional and creative. (Gose-style cider, anyone?) The point is: It's a great time to drink cider, both because it's October and because there's so much good stuff around to drink — or even eat. (Grub is powerless to resist cider doughnuts.) Here are 11 cider picks to get you started.
Reverend Nat's ¡Viva la Pineapple!
Where: Wassail
How Much: $8
Portland's Reverend Nat's Hard Cider mixes the traditional American beverage (in this case a West Coast blend) with Mexican tepache, an ancient fermented pineapple beverage that's got a sour kick like kombucha. Go drink it at downtown cider bar Wassail.
Shacksbury Cider Spritz
How Much: $3.99 retail at Foster Sundry, $9 to drink at Sunday in Brooklyn, or $45 for a 12-pack on its website
Vermont's Shacksbury makes some really excellent drinks, including this very New England-y spin on a spritz. Available in citrus and ginger flavors, it's refreshing and effervescent, with a crispness that makes it prime for seeing out the last days of the year before it gets too cold to drink outside. Speaking of Shacksbury: Basque restaurant Huertas created a collaboration cider ($8) with the Vermont company, meant to marry the farmhouse flavor of the Basque-style with the approachability of the American.
Cider House Menu
Where: Huertas
How Much: $70 for the Cider Week dinner, $48 for dinners through November
Huertas will also dive into Cider Week by inviting South Hill Cider's Steve Selin for an October 23 dinner of cider house-inspired dishes (with Hudson Valley duck and tortilla Española). There will be all-you-can-drink cider from South Hill, as well. And if you can't make that, on Sundays and Mondays through November, you can pop in for a Cider House set menu with unlimited apple booze.
Graft Cider Tasting
Where: City Swiggers
How Much: Entry is free.
Graft uses wild yeasts to make cider that's inspired by beer geeks' favorite brews. (There's a whole rotating series inspired by gose, the traditional German sour beer.) Uptown beer store City Swiggers will host the upstate producer for Cider Week, and serve its Farm Flor, brewed with wild yeast and fodder-aged; Where Secrets Lie, a gose with hibiscus, rose petals, lavender, and pink sea salt; and other options.
Ciderfeast
Where: The Brooklyn Kitchen
How Much: $45, tickets here
On October 28 from 1 p.m. to 4 p.m., East Village bar Jimmy's No. 43 will pop up at the Brooklyn Kitchen for Cider Week. You'll be able to sample ciders from Hudson Valley's Treasury, the Finger Lakes' Black Duck, Maine's Downeast, and others. There will be roast-pork dishes and vegetarian food; cheese from Murray's, Stinky Brooklyn, and Consider Bardwell; live music; and more.
Cyril Zang Double Zero Cider Eau de Vie
Where: Astor Wines
How Much: $80
Looking for something particularly fancy? Buy a bottle of famed Normandy producer Cyril Zangs's Double Zero cider eau de vie, a highly sought-after liquor. It's made from over 30 varieties of apples that are stored for months, and bottled at 50 percent ABV. If you'd like to drink Cyril Zangs's cider, two great places to find it are Gloria, which serves the sparkling This Sider Up ($14), and Mettā, where you can get a 750-ml bottle of Ciderman ($20).
Twin Star Orchards
When: Through early November
How Much: Whatever you spend
Grab a Zipcar and head up to New Paltz, where you can visit Brooklyn Cider House's orchard, eat wood-fired pizza and baked goods, pick "ugly apples," and get lots of New York cider.
Season of Luck
Where: aRoqa
How Much: $14
The contemporary Indian restaurant's fall menu includes this cocktail, made with chamomile-infused bourbon, Benedictine, baharat-spice syrup, lemon, Angostura bitters, and Doc's Cider.
Tasting Room
Where: Diner Brew Co.
How Much: Whatever you buy
Heading to Diner Brew Co. requires a short trip to Mount Vernon, but they're doing interesting and unconventional things up there — making miso, coffee, and lavender-coriander ciders. The Tasting opens during the fall from noon to 5 p.m. on Saturdays.
Mulled Apple Cider Doughnut
Where: Underwest Donuts
How Much: $3.25
No one in New York makes doughnuts like Underwest, where they're celebrating the season with mulled cider doughnuts, a subtle tweak on the classic fall dessert. They'll be available for a few more weeks, so get them while they're still hot. (Underwest will also ship them via Goldbely for those outside of the city.)
Apples for the Table
Where: Empellón
How Much: $8
Alex Stupak's trompe-l'œil avocado gets all the Instagrams, but his fruit for the table is the real showstopper. Strawberry season is over, so he's now serving a much more fall-appropriate fruit: apples. The eight mini-treats include apple sauce with apple pico de taco, apple-butter cake with buckwheat and licorice, and of course, some apple cider spiked with mezcal.