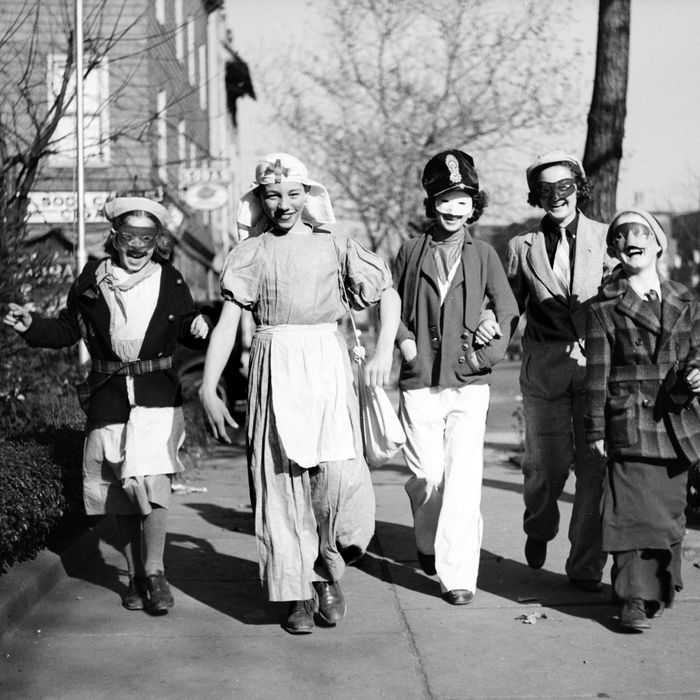 Trick or treat.
Photo: Bettmann Archive/Getty Images
It's that time of year again, when adults carve cat faces into pumpkins and try not to wear the same costume as four of their friends. (Grub recommends Sean Spicer and the bush.) Halloween falls on a Tuesday this year, which doesn't so much cramp your style as give you a few extra days for spooky shenanigans. Here, 13 places serving special drinks on rooftops, screening horror movies, and more.
A Costume Dinner Party
Where: Archestratus Books + Foods
How Much: $40, tickets here
On October 29 from 7 p.m. to 10 p.m., Greenpoint bookstore-café Archestratus Books + Foods will host arts collective the Wild Honey Pie for a candelit dinner with a three-course meal, candy, and a performance by the band Chimney. Pumpkin is promised, and drinks and food are included in the ticket price.
Haunted Crown Halloween Party
Where: The Crown
How Much: $20, tickets here
On October 28, the rooftop bar run by Dale Talde & Co. will host a DJ, serve Halloween-themed cocktails like the Frankenstein (white rum, Thai basil, pineapple, Pernod, "stitches"; all available October 26 through the holiday), and passed food.
All Day Happy Hour
Where: DiWine
How Much: Whatever you booze
Need somewhere in Astoria to pregame a Halloween party, that's cheap but not your apartment? Head to the wine bar for a night-long happy hour with $8 cocktails and wine, $5 beer, and happy-hour food.
Moe's Tavern Night
Where: Fancy Nancy
How Much: À la carte
Every Halloween, the brunch-y Brooklyn restaurant gets dressed up as a different fake restaurant or bar. This year its Moe's from the Simpsons, complete with a Krusty burger and lard-dad doughnuts, but the owners indicate that there won't be any "Treehouse of Horrors" high jinks.
Halloween Movies
Where: Metrograph
How Much: $15
Make it a Halloween-themed dinner and a movie at Metrograph. The movie theater with a restaurant will showing a 35 mm screening of George Romero's The Crazies on October 30 and Stephen King–books-turned-films Stand by Me October 27 through 29 and Creepshow on November 1 through 2.
Mister Halloween Nights
Where: Nowadays
How Much: $15 to $25 for advance tickets, $20 before 7 p.m. at the door
All right, you can't make it outside the city for a properly spooky Halloween. Do the next big thing and go to the outdoor venue Nowadays, where there are — yes — some trees and the Mister Sunday guys will throw fall "séance." They'll deejay while you dance from 5 to 11 p.m., drinks will be served, and cloaks will be donned.
Pre-Halloween Masquerade Party and Harlem Vibes: the Halloween Edition
Where: Red Rooster
How Much: $20 at the door for both events
On Friday, the Harlem spot will kick off Halloweekend with a party featuring music from Queens' DJ Moma. The next night they'll bring in DJ Dubbz and Noel, with prizes for the best costumes.
Japanese Beef and Horror Films
Where: Salt + Charcoal
How Much: Whatever you eat
Pair your bloody beef with bloody flicks. The Japanese steakhouse will celebrate the holiday with a free glass of hot sake and screenings of Ringu, Joon, and Dark Water. Perfect complements to the dry-aged beef cooked by the chef, who previously worked at Joel Robuchon Tokyo.
Halloween Dance Party
Where: Syndicated
How Much: Entry is free, RSVP here
Starting at 10 p.m. on October 28, the Bushwick movie theater will host a party with a DJ, horror movies projected on its bar screen, and cocktails like the Black Magic ($9; black vodka, peach liqueur, cranberry, and Prosecco).
Halloween Freak Show
Where: Sunday in Brooklyn
How Much: $45, tickets here
Celebrate the brunch destination's one-year anniversary on Halloween (party starts at 8 p.m.), where there will be punch, stilt walkers, sword swallowers, and music from DJ KLM. Costumes are required.
Halloween Party
Where: The Tuck Room
How Much: $65, tickets here
In the Financial District, go eat Halloween-themed food like and cocktails like a Corpse Reviver #13. There will be a DJ and a costume contest with prizes including dinner and a movie for four to the Tuck Room and nearby iPic Theaters.
Halloween Parties
Where: Threes Brewing
How Much: Entry is free
On both October 28 and 31, the Gowanus brewery will host pumpkin carving from 5 to 7 p.m. followed by dance parties from 10 p.m. to 2 a.m. and 9 p.m. to 1 a.m., respectively. Streetlight Boutique will DJ on Saturday, and on Tuesday there will live music starting at 8 p.m. followed by DJ Stan Antonio.
Halloween Freak Show
Where: Westlight
How Much: $31, tickets here
Go see sword swallowers and contortionists at the rooftop hotel bar, which will host Bindlestiff Family Cirkus and DJ Marlos for a costume-mandatory party on Halloween.