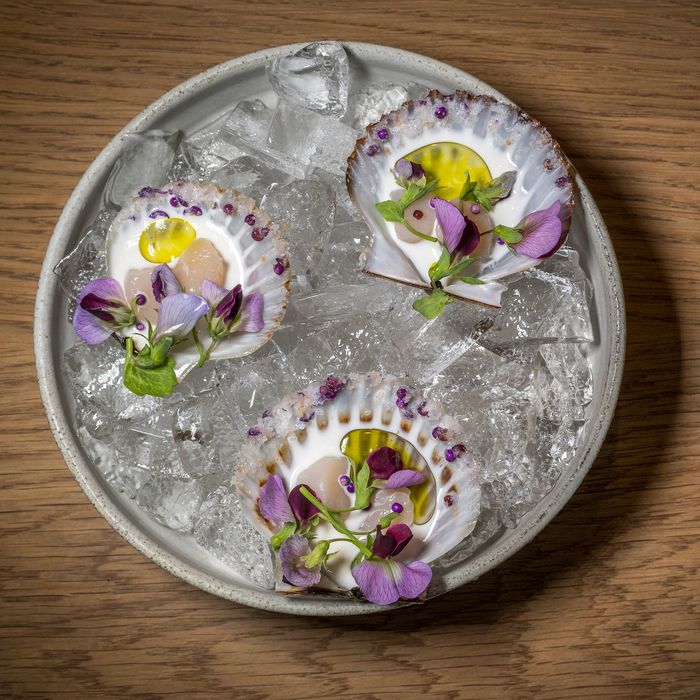 Mads Refslund is cooking again in New York.
Photo: Noah Fecks
Every month in New York, there's a bewildering number of new dishes to eat, drinks to imbibe, and food-themed events to attend. Often, the hardest part is just figuring out what's really worth your limited time. So Grub kicks off each month with a curated collection of dishes, drinks, and events that should absolutely be on your agenda. Make your plans now.
1. Go find out what one of Noma's founding chefs has been up.
Mads Refslund first made his name as a co-founding chef at Noma, and an early trailblazer of New Nordic cooking. After crossing the Atlantic to run the kitchen at the sceney Acme, he took some time off, and now, for the first time in nearly two years, Refslund has a place to cook in New York again. Last week, he and sous-chef Ryan started Knightshift in Williamsburg's Meyers Bageri, a 14-seat pop-up that's open Wednesday through Friday. The menu will evolve regularly, but Refslund has been toying with dishes like a baked apple filled with bone marrow, uni with raw chestnuts, and lots of ferments like cherry koji. The pop-up will run through the end of the year, after which the chef will focus on opening his restaurant.
2. Eat chicken curry at New York's latest Burmese restaurant, and grilled flatbread at its newest Burmese food cart.
New Yorkers won't be content until they can eat the whole world without leaving the five boroughs. Aside from a few festivals, Burmese food has been hard to find in the city. That's changed a little recently, thanks to the Burmese Bites stand at the seasonal Queens Night Market and the openings of Jackson Heights' Little Myanmar Mini Mart and Bensonhurst restaurant Together earlier this year. Still, there's plenty of room for more, and in October, New Yorkers got two more options. Bensonhurst got its second Burmese restaurant in Rangoon Spoon, serving fried Shan tofu ($4), mohingar or catfish chowder with noodles ($7), and laphet thoke or green-tea-leaf salad ($7). And up in Long Island City, Burmese Bites expanded with a cart (open Monday through Saturday), where it's serving dishes like keema palata ($6), which is grilled flatbread stuffed with minced chicken, onion, and egg, and then topped with cucumber-yogurt sauce.
3. Get breakfast at the new cart from one of New York's very best breakfast-taco operations. 
King David Tacos makes really good Austin-style breakfast tacos. The only problem being that it launched as a catering business, and you had to have a lot of friends or co-workers around to order some. But owner and Texas kid Liz Solomon opened a Prospect Park cart in September, and is now bringing her BPEC (bacon, potato, egg, and cheese), Queen Bean (refried beans, potato, egg, and cheese), and Or'izo (chorizo, potato, egg, and cheese) tacos ($4) to the Financial District. For taco enthusiasts working on Wall Street, this is an excellent development.
4. Head to the Nomad Bar for lunch, then go back for dishes from Gail Simmons's new cookbook.
From November 8 through the end of the month, the folks at the NoMad Bar will serve dishes from Top Chef judge Gail Simmons's new cookbook, Bringing it Home. On the menu: a latke Reuben ($16), sticky baby back ribs with ginger and honey ($20), jerk shrimp roll with habanero ($18), and a dessert of butterscotch pudding ($14). There's also a gin, lemon, mint, cucumber, and salt cocktail ($16) named in her honor, for those who can resist the allure of the bar's other drinks. More permanently, the restaurant is now also open from noon to 2 p.m. for lunch, and then 2 p.m. to 5 p.m. for snacks. Think: three types of burgers (dry-aged beef, $20; chicken, $18; and veggie, $17), carrot "tartare" ($16), and cheesecake ($14) for lunch, with a more limited menu during snack hour.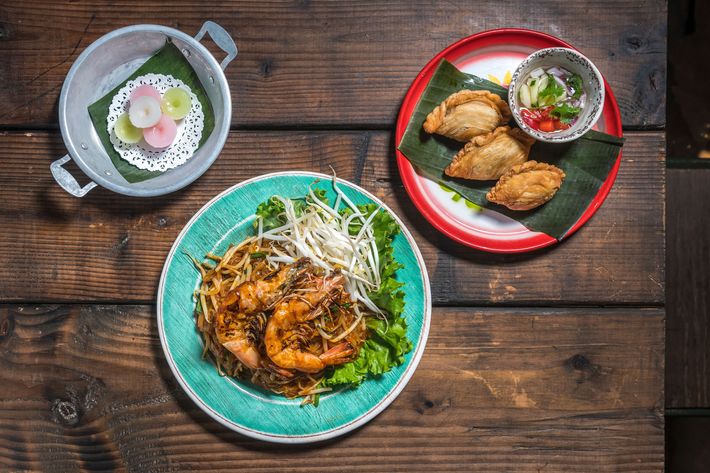 5. Check out the new snack and dessert shop from the owner's of one of Queens' best Thai restaurants.
The often ridiculously spicy cooking at Khao Kang is some of Elmhurst's — and also the city's — best Thai food. So it's good news that the owners have expanded next door with Khao Nom, another casual spot with a hipish design (hanging Edison light bulbs, beach shack–like gray wood). The focus of the menu are snacks and desserts, think Thai curry puffs or potato-and-chicken-stuffed puff pastry ($5), Chan noodles ($10) with grilled shrimp and spicy-tamarind sauce, and floral rice cakes ($2) that look like more naturally colored Life Savers.
6. Tour a Staten Island brewery, then go eat some great pizza.
If you live on Staten Island or go out there from time to time, you've likely had a beer or three on the ferry. Put down the Bud Light and take a booze cruise with Josh Bernstein to Staten Island's Kills Boro Brewing on November 4 (tickets are $30, and the event runs from noon to 4 p.m.). The tour will start on the ferry ride, which the brewery's founders will join with beer in tow. They'll then guide the group from the Staten Island ferry terminal to Kills Boro for a behind-the-scenes tour and beers like Lei, a cream ale flavored with toasted coconut. And after, why not try some of the city's best pizza at, say, Joe & Pat's?
7. Eat apple-cider doughnuts at Du's Donuts.
New York is deep into fall, which means one thing. There's only so much time for apple-cider doughnuts. Culinary whiz and Rhode Island native Wylie Dufresne has collaborated with Eleven Madison Park pastry chef Mark Welker for his version of the New England classic. Starting November 1, Du's Donuts will sell an apple cider–buckwheat doughnut ($3.50) made with a cider glaze, apple chips, puffed buckwheat groats, and sea salt.
8. Attend the launch party for a new studio that meshes art and food.
On November 16, curator Emma Orlow will launch her Scratch 'n Sniff Studio (tickets are $25), which explores the crossroads of food and art. The event will happen at Urban Outfitters's Space Ninety 8 in Williamsburg, where you'll be greeted with (if you're inclined) a cocktail inspired by LOLIWARE's biodegradable, edible cups. In the event space, there will be an edible installation, featuring a tablecloth made to look like a coloring book and plastic paint palettes with edible dyes, sculptures made of vegetables and tableware, and more. Food made from scraps and ugly produce will be served, and the event will benefit El Fondo Resiliencia of El Departamento de la Comida, a Puerto Rican food-advocacy organization.
9. Eat steak tartare from one Charleston's favorite restaurants.
Childhood best pals John Amato of Charleston's Little Jack's Tavern and Jack Harris of West Village all-day spot Fairfax will reunite the band on November 14 and 15. Amato and Little Jack's restaurateur Brooks Reitz will drop by Fairfax, supplementing its menu with their Tavern burger ($16), steak tartare with caper vinaigrette and potato stick ($14), crudités and dip with avocado mousse ($12), and cocktails ($13), like a rum Old Fashioned.
10. Go to Ample Hills' first New Jersey location.
Live in the Garden State? Brooklyn favorite Ample Hills will open its first location there at Jersey City's Urby. The menu here will feature some of its signatures, like the Munchies (pretzel-infused ice cream with Ritz crackers, potato chips, pretzels, and mini M&M's), along with a new flavor, the Golden Door, made with cannoli filling–infused ice cream, Irish whiskey cake pieces, and German streusel crumble. And for all your ice-cream-party needs, there will be birthday rooms.
11. Listen to Danny Bowien, Daniel Humm, and others talk with Massimo Bottura about his new book and food waste.
Italian chef Massimo Bottura will be in town to give a talk on November 9 at 8 p.m. at the 92nd Street Y (tickets are $35). He'll be joined by Danny Bowien, Daniel Humm, and others for a discussion of food waste (the subject of a recent documentary Bowien co-starred in) and Bottura's soup-kitchen project in Milan and the book it inspired, Bread is Gold.
12. Drink natural wine at a fair dedicated to it.
Natural-wine geeks assemble. From 10 a.m. to 6 p.m. on November 5 and 6 (tickets are $55 for one day, $90 for two, or $25 for one day and $50 for two for industry members), RAW Wine will return to 99 Scott Street in Bushwick. There will be more than 135 winemakers to check out, from everywhere from Baja California to Georgia (the country) to the Piedmont in Italy. To keep you sober, Bunker, Café Integral, Insa, and Roberta's will serve food. Along with the fair, RAW Wine will put on a series of events from November 3 through 13 at restaurants around the city, including Cervo's, Nom Wah Tu, and Ops.
13. Eat cheese and drink local beer at a Queens dinner party.
As part of his Queens Dinner Club event series, Joe DiStefano will throw an Octoberfeast (tickets are $65) from 7 p.m. to 9:30 p.m. on November 4. Hosted by the Bamboo Lounge, the dinner promises cheeses from Astoria Bier & Cheese's Rick White, Queens beers and cider from operations like Finback and Descendant, and charcuterie from the excellent Muncan Food Corp.