Photographs by Bobby Doherty
Food Styling by Michelle Gatton. Prop Styling by Noemi Bonazzi
Top image: Matt and Emily Hyland's whole roast duck.
A Whole Roast Duck in Downtown Brooklyn, 2012
Matt & Emily Hyland, Chef-Owners, Emily and Emmy Squared
"We gave our first big dinner party in our small one-bedroom apartment in Downtown Brooklyn on Christmas Eve for our families. It was the first time they had relinquished the tradition. Mom, who lives in Greenwich, always liked to have the seven fishes and was disappointed I wasn't doing fish. I love the Chinese ducks that hang in the windows in Chinatown, and I wanted to make something that mimicked that flavor, so I seasoned it with star anise, black cardamom, Sichuan peppercorns, and honey and stuffed it with walnut-raisin bread — I figured if I overstuffed the cavity, the breast would cook slower. This was the first time Emily made her banana pudding — it's now one of the most popular desserts at our restaurant — and we served it with eggnog. All went according to plan, except that the smoke alarm went off in the apartment, so we had to open all the windows and turn on the air conditioner." —Matt Hyland
Menu
Mixed greens with shaved Gouda dressed with fig balsamic vinegar and olive oil
Whole roast duck stuffed with walnut-raisin bread
Roasted root vegetables in maple syrup with crosnes and polenta
Banana pudding with eggnog
Recipe:
Whole
Roast
Duck
Stuffed
With
Walnut-Raisin
Bread
Serves 4
1 whole duck, about 4 to 5 lbs.
Fine sea salt
2 star-anise pods, ground
1 black-cardamom pod, ground
1 tbs. Sichuan peppercorns, ground
¾ cup honey
1 loaf walnut-raisin bread, cut into small cubes
1 tsp. olive oil
Freshly ground pepper
Thoroughly rub the duck with salt and place on a draining rack, uncovered, in the refrigerator overnight.
Preheat oven to 400 degrees.
In a small saucepan, combine the star anise, cardamom, Sichuan peppercorns, and honey. Set over low heat and bring to a simmer. Remove from the heat and put aside.
Wipe off excess salt and moisture from the duck. Toss the bread cubes with the oil and season with salt and pepper, then stuff inside bird.
Pour 1 cup of warm water in the bottom of a roasting pan and set the duck on a rack with breast up. Cook in the oven for 30 minutes, turn the duck over, and cook for another 30 minutes, then turn again, basting with the fat drippings each time the duck is turned.
Once the legs are just about cooked (another 30 minutes), brush the honey on the duck and roast for a final 30 minutes, or until the skin is beautifully browned and the internal temperature of the leg is 165 degrees. Let the duck rest for 10 minutes at room temperature before cutting. Serve the stuffing on the side. Reserve the fat in the pan for another use.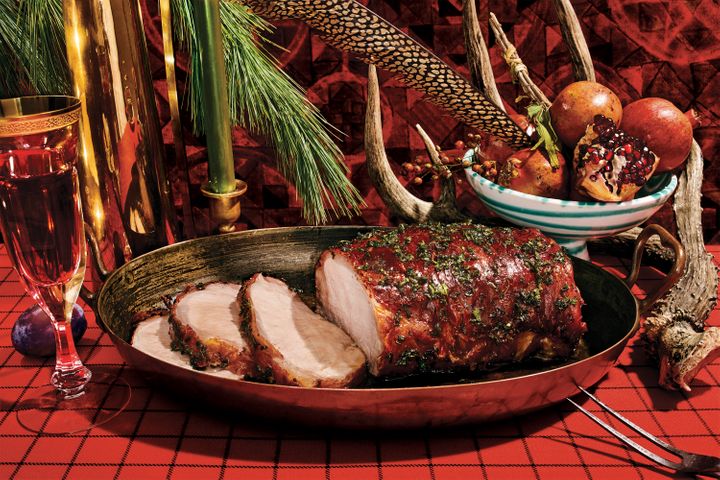 An 18-Year-Old's Christmas Pork Loin, 2004
Greg Baxtrom, Chef, Olmsted
"I was 18 and had just returned home to Chicago from my internship in France at the Auberge de la Valloire and wanted to impress my family and cook Christmas dinner for the first time. My parents are typically pretty traditional and don't like to mess with holiday standards — they usually eat honey-glazed ham and mashed potatoes — but they knew how excited I was to cook for everyone and gave me free rein. Our kitchen is small — there's a four-burner stove with very little counter space — so there was a lot of juggling. The pork loin wrapped in prosciutto was inspired by Jamie Oliver, whose show I watched a lot in those days, and was one of my favorite dishes from that night. The duck, however, did not come out well. It was not properly roasted. I was a little in over my head, but my parents had never really had it, so we were all at a loss there."
Menu
Cranberry-and-walnut salad with goat cheese
Roasted duck à l'orange
Prosciutto-wrapped pork loin
Green beans amandine
Roasted broccoli
Potatoes dauphinoise
Chocolate mousse (the same one now on Olmsted's menu)
Recipe:
Prosciutto-Wrapped
Pork
Loin
Serves 6 to 8
Pork brine
1 cup salt
¼ cup honey
12 bay leaves
2 full garlic bulbs, halved
2 tbs. black peppercorns
1 bunch parsley
1 bunch thyme
Zest of 2 lemons
2 sprigs rosemary
Prosciutto-wrapped pork loin
3 lbs. pork loin
12 slices prosciutto, thinly sliced
1 bunch of sage, chopped 
1 bunch of marjoram, chopped
20 cracks of pepper
1 tbs. olive oil
Pork brine: Place all the ingredients in a large pot with 8 cups of water. Bring to a simmer, then remove from heat and cool. When cold, submerge pork loin in the brine and refrigerate overnight.
Prosciutto-wrapped pork loin: Preheat oven to 375 degrees. Remove the pork loin from the brine and bring to room temperature. Shingle (layer) prosciutto slices on a cutting board widthwise so just the edges are overlapping. Scatter half the herbs over the pork loin. Place the pork in the center and wrap the prosciutto around the pork. Sprinkle the remaining herbs atop the pork loin, along with 20 cracks of pepper. Roll the pork around the cutting board so all edges are coated with the herbs. (It should be heavily coated.)
Heat the oil in a sauté pan over medium heat. Add the loin and sear on all sides. If sauté pan is ovenproof, place it directly in the oven. If not, place pork on coated wire rack and place in oven. Roast for roughly 30 minutes or until the internal temperature is 145 degrees (for medium). Allow to rest for 10 minutes before carving into half-inch slices.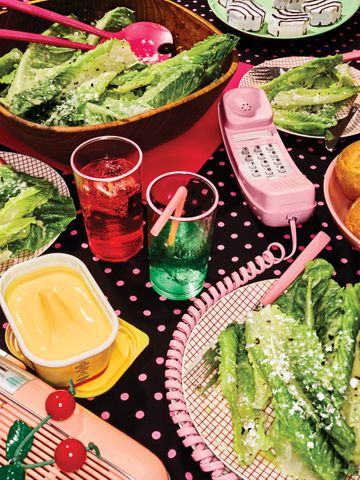 A Caesar Salad for 14-Year-Olds, 1985
Missy Robbins, Chef, Lilia
"My mother was an incredible entertainer and used my grandmother's wooden Caesar-salad bowl for dinner parties. I wanted to use it, too, so when I was about 14, I threw a dinner party for some girlfriends from school. It was my first time serving Caesar salad, and I was totally old-school: I rubbed the bowl with garlic and mixed in the egg yolks and everything else before tossing in the lettuce. I didn't make my own pasta; I just bought great fresh pasta from the Italian markets in New Haven and used it for the fettuccine Alfredo. At the time, all I would eat was fettuccine Alfredo — but no parsley on it. I am not Italian, but I pose as an Italian. We all drank water — we weren't drinking alcohol yet."
Menu
Caesar salad
Fettuccine Alfredo
Ice cream from Ashley's Ice Cream in New Haven
Recipe:
Old-School
Caesar
Salad
Serves 8
1 clove garlic, whole
3 cloves garlic, chopped fine
2 tbs. Dijon mustard
6 anchovies, finely chopped
2 lemons, juiced, to taste
4 egg yolks
½ cup olive oil
3 hearts of romaine, outer leaves removed and inner leaves broken off root and left whole and set aside
¾ cup grated Parmigiano-Reggiano
Freshly ground black pepper, to taste
In a wooden bowl, rub the whole garlic clove around the entire inner bowl — this "seasons" the bowl. Add the chopped garlic, mustard, anchovies, lemon juice, and egg yolks. Slowly drizzle in the olive oil while whisking to gently emulsify.
Add the leaves and then half of the Parmigiano-Reggiano to the dressing in the bowl, and toss together well. Season generously with black pepper and mix well again.
Garnish with the remaining cheese.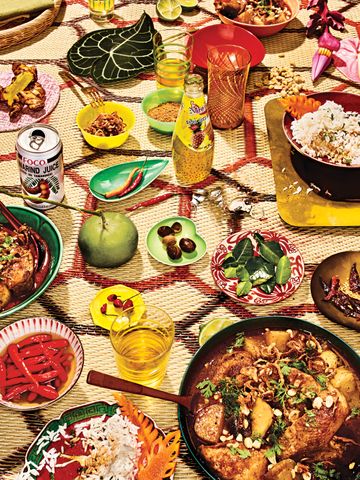 A Meet-the-Parents Feast in Thailand, 2009
Ann Redding & Matt Danzer, Chef-Owners, Uncle Boons and Uncle Boons Sister

"Our first big dinner party together was when Matt met my family in Thailand. We had my mother, my grandmother, my three aunts, my uncle Nuey and uncle Boon, plus Boon's sister, who cooked in the royal palace. Everyone sat on the floor outside with mortars and pestles, near a clay charcoal fire, making chicken massaman, green-curry beef, and tapioca dumplings. My grandmother taught Matt how to make the dumplings, but she started getting tired of making them, so to get the whole thing over with she kept making them bigger. Everyone blamed Matt, including Grandma, who said, 'The American is making them big, as everything in America is big.' It all ended well: We did karaoke at my aunt's house later." —Ann Redding
Menu
Saa koo sai muu (pork-and-peanut tapioca dumplings)
Satay
Beef green curry
Chicken massaman curry
Jungle curry
Kai jiew (egg omelette)
Vegetables, herbs, nam prik
Selection of fresh fruit
Serves 8
¼ cup vegetable oil
1 large chicken cut into 10 pieces
Salt and freshly ground black pepper
2 red onions, cut into wedges
4 medium-size potatoes, peeled and cut into large wedges (Yukon Golds work well)
¼ cup massaman-curry paste (store-bought works fine)
1 12 oz. pale-ale beer
4 cups coconut milk
1 cup chicken stock
2 tbs. lime juice
2 tbs. tamarind pulp
¼ cup fish sauce
1 tbs. palm sugar (brown sugar can be substituted)
½ tsp. roasted-chile powder (either store-bought or roasted and ground dried chiles)
1 cup chopped cilantro leaves
1 cup chopped dry-roasted peanuts
1 cup crispy shallots (homemade or store-bought)
Heat the oil in a heavy-bottomed braising pot. Season chicken pieces with salt and pepper and sear until golden; remove from pot. Add the onion wedges and lightly sear; remove and set aside. Add the potato wedges and sear in same pot; remove and set aside.
In same pot, add the curry paste and sweat until aromatic. Pour in the beer to deglaze the pot; reduce by half. Return the chicken pieces to the pot, and cover with the coconut milk and stock. Braise for about an hour and a half or until chicken is tender. Return the onions and potatoes to the pot for the last half-hour of cooking.
Turn off the heat and add the lime juice, tamarind, fish sauce, palm sugar, roasted-chile powder, and salt to taste. This can be made in the morning, put in the fridge, and simply reheated for the party. (In fact, it tastes better if it has a chance to sit.)
Top with cilantro, peanuts, and crispy shallots just before serving. Serve with jasmine rice.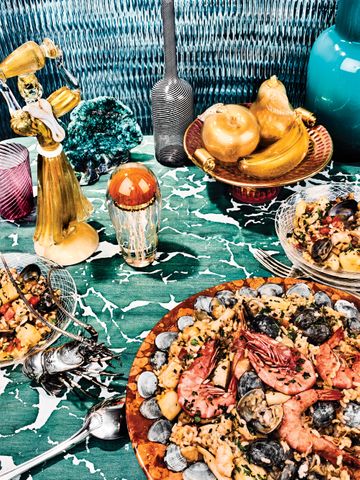 A Late Lunch of Risotto di Mare on the Grand Canal, 2015
Mario Carbone, Executive Chef and Owner, the Grill
"Oddly enough, the first dinner party I remember doing was in 2015, in Venice, on the Grand Canal. My girlfriend at the time had friends who rented a house and let us stay with them. To say thank you, I threw a late-lunch party for everyone — 20 of us. I went to the Rialto fish market that morning and got fresh fish for a risotto di mare recipe from La Dogana, a restaurant I used to work at in northern Tuscany.
We had that with lots of wine. My girlfriend was Mexican, so her friends were speaking Spanish the whole time, so I couldn't understand most of what they said."
Serves 8 to 10
2 lbs. fresh cuttlefish or fresh calamari
1½ cups olive oil, plus more for finishing
½ cup thinly sliced garlic
½ cup chopped parsley, plus more for garnish
1 tsp. chile flakes
4 cups diced tomato
Salt, to taste
1 lb. Manila clams
2 cups white wine
2 medium yellow onions, chopped
4 cups Arborio rice
10 cups hot vegetable stock
½ lb. fresh bay scallops (or larger scallops cut into equal pieces)
½ lb. fresh shrimp peeled and deveined, cut into small pieces
½ lemon
4 whole shrimp, head on, for garnish
Cuttlefish or squid braise: Clean and cut the cuttlefish or fresh calamari into strips about a ¼ inch by 1 inch.
In a medium-size pan, add ½ cup oil and warm it over medium heat. Add ¼ cup of the garlic, and sauté until very lightly golden brown. Add ¼ cup parsley and ½ tsp. chile flakes. You want to hear the parsley sizzle and pop a little bit. Add 2 cups of the diced tomatoes and the cuttlefish or calamari, give everything a good stir, and cover the pan. The cuttlefish will release some well-flavored braising liquid for everything to cook in. Keep stirring the mixture every 10 minutes or so until tender, about 45 minutes to 1 hour. Season the braise to taste with salt at the end of the cooking process. Set aside to cool. (This can be made a day ahead.)
Clams: In a large sauté pan, add ½ cup oil and warm it over medium heat. Add ¼ cup of garlic, and lightly sauté. Add ¼ cup of parsley and the remaining chile flakes. Add remaining tomatoes, and cook quickly until they begin to release their liquid, then add the Manila clams and 1 cup white wine. Cover the pan and wait until the clams open, then remove from the heat.
Risotto: In a large heavy-bottom pot set over medium heat, add ½ cup oil and the onions and allow them to sweat until soft.
Add the rice. Toast in the onions and oil for 2 minutes, stirring frequently. Deglaze with 1 cup wine, cooking until the liquid is absorbed. Add 5 cups of stock, and cook until all the liquid is absorbed, stirring occasionally. Continue adding remaining stock until all the stock is absorbed.
While the rice is cooking, add the braised cuttlefish and some of its liquid to the pan with the tomatoes and clams and slowly heat.
To assemble: Once the rice is al dente, add the cuttlefish and clams to it. Stir everything together, then add the raw scallops and shrimp to the rice and continue to stir until the shellfish is cooked. It should only take about a minute. Adjust the rice with additional stock or water if necessary.
Finish the risotto with a healthy drizzle of olive oil, a handful of chopped parsley, and a squeeze of lemon juice.
Give everything one last toss and plate the risotto. Garnish with the whole shrimp.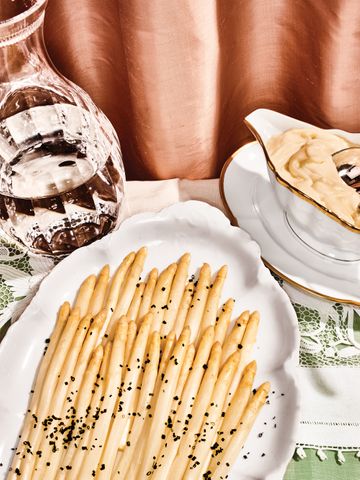 A 16-Year-Old's Postwar Asparagus, 1949
André Soltner, Former Chef-Owner, Lutèce
"My father was a cabinetmaker and made cabinets for René Simon, the chef at the Hôtel du Parc in Mulhouse, France. I grew up nearby, in Alsace, and when I was 15, I started my apprenticeship with Chef René. When I was 16, my mother invited him over for dinner. Fortunately, food rationing for the war had stopped, but le ticket was still necessary for bread. My mother and I discussed a menu of white asparagus — it was in season and easy to find from the little farms. I was not able to serve hollandaise at the time because I wasn't experienced enough as a chef. The main course was duck, and dessert a simple Alsatian apple tart. At the end of the dinner, Chef said it was very good, but I cut the duck the wrong way — I cut it like a chicken."
Menu
Asperges blanches with sauce mayonnaise
Roast duckling
Rice
Alsatian apple tart with crème anglaise 
Recipe:
White
Asparagus
With
Mayonnaise
Serves 5
Asparagus
25 white-asparagus spears
Salt, to taste
2 tbs. butter
2 tbs. sugar
Thyme sprig
2 bay leaves
2 tsp. cracked pepper
Mayonnaise
3 egg yolks
1 tbs. tarragon vinegar
1 scant tsp. Dijon mustard
½ tsp. salt
Freshly ground white pepper, to taste
2 cups peanut oil (at room temperature)
Asparagus: Wash in cold water, trim ends, and peel, leaving 2-inch spear tips. Tie into 4 bundles.
In a large pot, bring the water to a boil. Add salt, butter, sugar, thyme, bay leaves, and cracked pepper, and boil for a minute or 2. Add asparagus bundles, and boil until the asparagus is tender, about 5 to 6 minutes.
Transfer the asparagus to a plate and keep lukewarm.
Mayonnaise: In a bowl that is at room temperature (the bowl must not be cold), whisk together the yolks, vinegar, mustard, salt, and pepper. Add the oil slowly, almost drop by drop, constantly whisking.
When all the oil is mixed in, adjust the seasoning, and if the mayonnaise is too thick, correct by whisking in a little warm water. Serve with the asparagus. (Makes about 2 ½ cups.)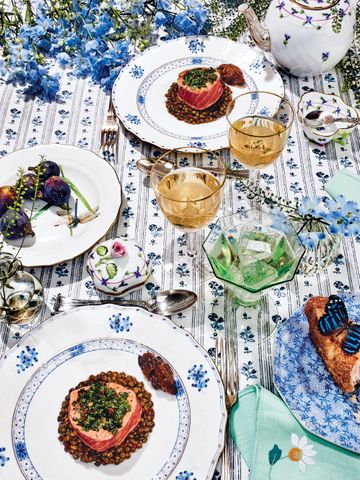 A London Thank-You Meal, 2003
Victoria Blamey, Executive Chef, Chumley's

"When I was a student in Chile, I left for a few months to work in the kitchen at the Savoy in London. I stayed with my mum's friends for four months and decided to cook a dinner party for my hosts. The menu I chose was from John Campbell's Formulas for Flavour: salmon mi-cuit and rack of lamb. It was the first time I bought veal bones — actually, it was one of the most complicated dinners I made with that little experience. For most of the ingredients, I went to the department store Fortnum & Mason and thought, This is heaven. Lavender from my host's garden went into the crème brûlée. We were supposed to eat at seven, but it wasn't ready until nine. I never sat down. But I cooked the lamb perfectly. I was sweating about it."
Menu
Salmon mi-cuit with spiced lentils and fig-and-pear chutney
Rack of lamb with parsnip, vanilla purée, and confit of tomatoes and flageolet beans
Lavender crème brûlée
Serves 6
Salmon
2 lbs. salmon fillet, using the tail end 
1 tbs. grapeseed or olive oil
Salt and white pepper, to taste
Spiced lentils
½ cup Puy lentils
1 tsp. ground cumin
⅓ cup finely diced red onion
2 tbs. balsamic vinegar
1 clove garlic, crushed
1 red Thai chile, finely diced
2 tbs. soy sauce
1 tbs. tomato ketchup
2 tbs. sweet chile sauce
2 tbs. olive oil
1 tsp. chopped cilantro
Squeeze of lemon juice
Fig-and-pear chutney
1 Anjou pear, peeled and cut into a small dice
¼ cup finely chopped onion
⅓ cup chopped dried figs
2 tbs. apple-cider vinegar
1 tsp. Dijon mustard
1 pinch cayenne pepper
½ clove garlic, minced
⅓ cup golden raisins
2 tsp. demerara sugar
Herb dressing
2 tbs. olive oil 
1 ½ tsp. julienned lovage
1 tbs. chopped chives
1 tbs. chopped parsley
2 tbs. chopped cilantro
1 Thai chile, seeds removed and finely chopped 
½ lime, juiced
1 tbs. fish sauce
Salt, to taste
Salmon: Skin the salmon fillet carefully, making sure there are no pin bones. On a cutting board, lay the fish with the thickest part of the fillet pointing away from you and the tail toward you. Cut a straight line down through the middle of the fish toward the tail at an angle of about 30 degrees, giving you 2 almost equally thin fillets, belly and loin.
Place the fish sides head to tail on a large piece of plastic wrap and wrap it into a roll, expelling all the air — it must be tight with no air bubbles. Leave to rest for 12 hours in the refrigerator. Once rested, cut 6 cylinders, each 1½-inch wide (leaving the plastic wrap on the fish).
Lentils: Soak the lentils overnight, drain, transfer to a saucepan, and cover in water. Once cooked, drain and cool down.
Toast the cumin in a hot dry pan to release the flavor and aroma, then add the onions, vinegar, and garlic. Cook for 10 minutes or until onion is soft, over a very low heat. If the mixture becomes dry, add water. Add the remaining ingredients and the lentils and stir together. Adjust the seasoning to taste with the lemon juice. Remove from the heat and cool down. Lentils can be made a day ahead to improve flavor.
Chutney: Combine all the ingredients in a heavy saucepan. Bring to a boil, lower the heat, and simmer for 2 hours or until it thickens and has a glossy finish, adding more liquid if necessary. Cool down and store up to a month or so.
Dressing: Combine all the ingredients in a bowl and reserve.
To assemble: Bring the chutney to room temperature. Set aside. Reheat the lentils gently. Heat the oil in a nonstick frying pan. Season both sides of the salmon cylinders with salt and pepper.
Reduce the heat and cook the salmon very slowly, for 3 to 4 minutes per side. Remove from the pan and let it rest 2 minutes. Place about a tablespoon of the warm lentils in the center of each serving plate. Cut away the plastic wrap from the salmon and place the fish on top of the lentils. Dress the salmon with the herb vinaigrette and a quenelle of chutney on the side.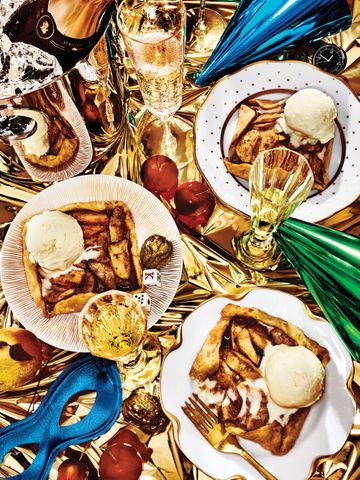 An Upper West Side New Year's Eve, 2001
Dan Kluger, Chef-Owner, Loring Place
"My parents were away, so my then-fiancée and I threw a New Year's Eve dinner party in their apartment on the Upper West Side. The guest list was all six of our chef friends. It was my first time doing all the menu planning, cooking, table setting, picking flowers, and it took a lot longer than I expected. It's all about planning — we made the foie gras terrine and the lobster ahead of time. I wasn't a pastry chef, so I was pretty darn pleased with the apple-pear crostata. We had it with a bottle of Château d'Yquem Sauternes — the big splurge of the night — that my friend Scott brought. I remember thinking, We are living the high life today."
Menu
Nantucket Bay scallops with sea-urchin-and-soy mousseline
Foie gras, black truffles, and beets 
Baby halibut, avocado, and fines herbes
Lobster, foie gras, farro, and muscat de Beaumes de Venise
Venison, sunchokes, truffles, and sauce pignons
Apple-and-pear crostata with pumpkin frozen yogurt
Recipe:
Apple-and-Pear
Crostata
With
Butternut-Squash
Frozen
Yogurt
Serves 4
Crostata dough
1¼ cups plus 2 tbs. flour
1 tsp. sugar
1 tsp. salt
1 stick butter, cold, cut into small pieces
¼ cup ice water
Apple-and-pear filling
5 cups apples and pears
1 tbs. lemon juice
¼ to ½ cup light-brown sugar
1 tsp. cinnamon
2 tsp. freshly grated ginger
¼ tsp. salt
2 tbs. butter
Crostata dough: Combine the flour, sugar, and salt in a bowl. Add the butter, and work into the flour mixture. Keep tossing to ensure the butter is worked in evenly and has formed lots of small flakes. This dough can also be made in the food processor, but make sure you see small pieces of butter in the dough.
Add half the ice water, toss, then slowly add the rest. You may need slightly more or less water. You want to be able to press the final dough together, but it shouldn't feel wet.
Press the dough together; wrap in plastic. Roll into an 8-inch square for easier rolling later. Refrigerate for at least half an hour.
Flour the surface and roll out the pastry. Cut the pastry into 4 5-inch squares.
You can reroll any scraps if pressed together carefully in a single layer. This rerolled dough will be puffier than the original dough.
Makes 4 individual crostatas.
Apple-and-pear filling: Preheat the oven to 400 degrees. Peel the fruit and cut into pieces about an inch long and no more than ½-inch thick. Toss all the ingredients together in a bowl, except the butter.
To assemble, pile the apple-and-pear mixture into the center of the dough. Fold the edges over the fruit, pleating as you go. Dot fruit with small pieces of butter.
Bake crostatas for about 20 minutes or until pastry is golden.
Butternut-squash frozen yogurt
1 butternut squash
2 cups sugar
2 lbs. yogurt, strained
½ tsp. salt
Cut the squash in half and scrape out the inner membranes with all the seeds. Put those in a pot with the sugar and 2 cups water. If your squash doesn't have a lot of membranes, add some diced squash.
Bring to a boil. This is the syrup used to make the frozen yogurt.
Steep the syrup until the squash flavor is strong. Strain and chill.
Mix 2 cups of the squash syrup with the yogurt and the salt.
Spin in an ice-cream machine.
Makes 1¼ quarts frozen yogurt.
Roast duck: Salt and pepper mills by Peugeot; Water carafe by Alessi; Martini carafe by Ralph Lauren; Bodega tumblers by Bormioli; Plates by Sentimetre; Silverware by David Mellor, Bronze bowl by Alma Allen. Pork loin: Fruit bowl by Gmundner, available at the Neue Galerie Museum Shop; Glass by Moser. Risotto: Glass and ceramic Pieces from End of History; Jellyfish paperweight and marble charger by Creel & Gow; Silver shrimp by Buccellati; Marmo fabric by Fortuny. Asparagus: Dagny carafe by Ralph Lauren; Gravy boat by Herend. Salmon: Cabanon stripe fabric by Schumacher; Glassware by Moser; Dishware by Herend. Apple crostata: Clockwise, champagne bucket and glass by Christofle; Plate by Herend; Vintage plates by Haviland and Rosenthal, both available at replacements.com.
*This article appears in the October 30, 2017, issue of New York Magazine.