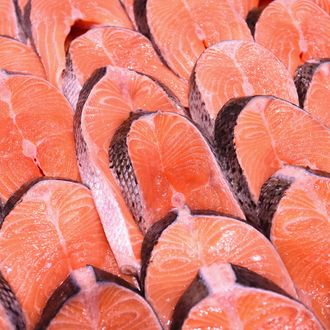 The U.S. classifies the working conditions as "modern day slavery."
Photo: Cameron Spencer/Getty Images
Yesterday, the Associated Press's ace fish-scandal-reporting team dropped another investigative report that's going to ruin your appetite for seafood. Per the exposé, Walmart and Aldi have sold salmon and maybe other seafood that unfortunately help subsidize Kim Jong-un's nuclear ambitions. North Korea makes up to $500 million a year by shipping citizens overseas to work as dirt-cheap laborers. The AP says about 3,000 are currently employed at seafood-packing facilities in Hunchun, a northern China city just a few miles from the North Korean and Russian borders. They sleep in metal bunks and work 72-hour weeks processing fish for as little as 46 cents an hour, because Pyongyang keeps somewhere between half and 70 percent of their pay.
AP reporters followed the seafood those workers package, and discovered over 2,000 tons of snow crab, salmon, squid, and other fish had entered the U.S. and Canadian food supply this year alone. Among the affected products is seafood distributed by the Fishin' Company (a Walmart supplier), Sea-Trek Enterprises (a Rhode Island company that sells to supermarkets and food-service companies in the U.S. and dozens of other countries), and Sea Queen (a brand exclusive to Aldi, which is now up to 1,600 locations in 35 states). Chicken of the Sea also has indirect ties — its parent company Thai Union uses a different factory run by the same Hunchun company, although Thai Union says those employees are definitely Chinese.
According to the AP, there's no way of knowing what percentage of the Hunchun products end up in America, much less which supermarkets got what kind. Two Canadian importers also do or did business with Hunchun packagers, and "several major German supermarket chains" are customers as well.
Every company the AP asked for comment noted that they forbid forced labor. Several pledged to investigate, but others noted that they no longer buy seafood from these bad factories (sometimes that was simply coincidence — their contract "expired," or whatever). A Walmart rep says they learned about this whole fiasco in an audit "a year go," and decided to ban Hunchun fish at some indefinite subsequent date. But the AP notes that the seafood could remain in the supply chain for "more than a year." That means Walmart's salmon isn't in the clear even in the best scenario.
Aldi hasn't explained what its deal is yet, but the company's branches outside of America are already distancing themselves from tainted U.S. salmon supplies, regardless: Aldi Australia reassured the Australian today that it "operates independently" from America, but "did not respond" when prompted to guarantee that no seafood had ever been processed by North Korean forced laborers.