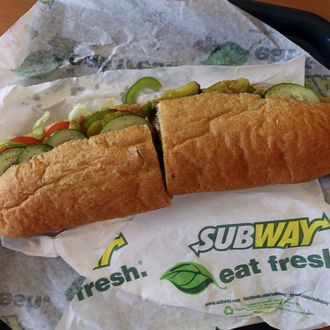 It hasn't seen sales growth in two years.
Photo: Joe Raedle/Getty Images
Billionaire Subway co-founder Peter Buck must be very concerned about his dying chain. The New York Post somehow got the 86-year-old nuclear physicist (who hates press about as much as reclusive In-N-Out heiress Lynsi Snyder) to go on the record and openly criticize Subway's business plan. He tells the paper that their best prayer for turning sales around is to basically cut their losses on bland Cold Cut Combo Footlongs, and instead either buy a rival sandwich chain or covertly develop "sub-brands" that could essentially trick customers into eating Subway by mistake. "How about opening four brand-new sub-chains?" is the solution he reportedly gave the Post.
Buck's company remains the world's biggest fast-food chain in terms of sheer size (some 46,000 locations), but its sandwich monopoly is fast going the way of the Seafood Sensation: Store sales have fallen 13 percent since 2013, with an especially cool spell coming after Jared Fogle's arrest assured that "Subway" and "child porn" appeared together in multiple headlines.
Unfortunately for Buck, though, this "sub-chain" idea might be a nonstarter. Even if he's pretty sure it has merit, CEO Suzanne Greco — the younger sister of his late friend Fred DeLuca, Subway's other co-founder — apparently doesn't see eye to eye. He still controls 50 percent of the company, which is privately held, and the other half belong to DeLuca's widow. Buck adds that she's mostly interested in "maintaining the status quo" now, not on "spending money on expansion." Sales have dropped for two consecutive years, so Greco, who's probably sweating bullets, has proactively suggested everything from updating Subway's décor, which looks fresh out of Happy Gilmore, circa 1996, to launching a customer-loyalty program. The Post says Buck doesn't view her "as an heir apparent," and would rather buy Jersey Mike's or another chain that's actually figured this out.