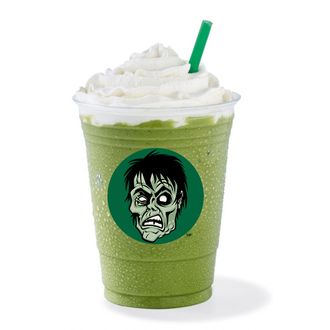 It supposedly looks even cheesier than this.
Photo: Big_Ryan
Alas, it seems the curtain's been pulled back on Starbucks' terrifying plan for Halloween, better known in the industry as the easiest time of year to sell corny sweets. Per a blog run by an ex–Starbucks barista, the chain is going to capitalize this time around by plaguing the living with a Zombie Frappuccino from October 26 until October 31. The blog, called Day of the Human, claims to have gotten pictures from a "trusted source" of the drink-prep manual already distributed to stores. The beverage is as Instagrammably gimmicky as every other recent multicolored iteration of the Frappuccino, and there are even purported shots of the signage, which features "Zombie Frappuccino" written in that ghoulishly oozy font that's like October's equivalent of Papyrus.
The drink hasn't been announced publicly yet, but Day of the Human argues the pictures speak for themselves. If this Frappuccino does happen, it will be even harder to take Starbucks seriously. The supposed internal document lays out the drink's specs, and they are … eye-rolling: It's a creme base with swirly bright colors à la the barista nightmare that was the Unicorn Frappuccino, a "Green Caramel Apple Powder" plus another pink powder, and the obvious pièce de résistance — pink "brains" whipped cream.
Predictably, Starbucks is staying tight-lipped; a rep would only say that their Halloween plans are "still under [mummy] wraps, but we look forward to sharing more details with the living soon." Thing is, baristas have been venting about the Zombie Frappocalypse since before Day of the Human's blog post, suggesting baristas are already preparing to be invaded by groaning hungry hordes: