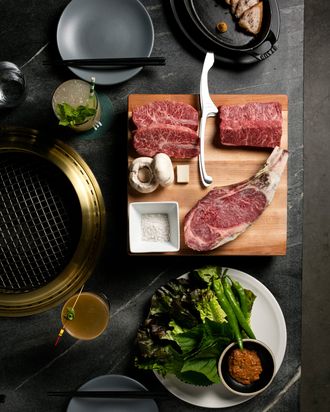 A typical spread at Cote, in the Flatiron District.
Photo: Melissa Hom
Of all the radical, ingenious, occasionally desperate down-market maneuvers being attempted by highly talented, upmarket restaurateurs and chefs around the city, the one that Simon Kim and executive chef David Shim have executed at their new Flatiron restaurant, Cote, might be the most ingenious of all: They've created a steakhouse disguised as a Korean barbecue joint (or vice versa), a satisfying hybrid that instead of feeling like gimmickry or an exploitation of these two familiar genres, is an improvement on both.
Korean barbecue with all the trimmings isn't exactly down-market, of course, but like barbecue everywhere, it's a time-honored tradition, dripping with all kinds of comforting Proustian associations, especially for Korean-Americans like Kim who grew up on a steady diet of galbi, and homemade bibimbap. Layer these, as Kim and Shim do, with the most elevated ingredients and first-class technique (the kimchee is fermented in-house), and you have the best of both worlds: a big-money, New Age "steakhouse" that exudes the familiar, communal comforts of home.
Kim's last venture was the comparatively staid, Michelin-approved (and recently shuttered) West Village establishment Piora, but Cote has the stripped-down, raucous feel of a stylish Benihana outlet in the suburbs. There's a crowded area in the front of the long, boxy space for more casual dining and drinking, and an island bar in the middle of the room houses harried barkeeps who serve a steady stream of brightly colored cocktails with names like "Seoul Side" and the "Hibiscus Swizzle." Meanwhile, the back half of the room is set with rows of stately black leather banquettes, each one fitted with a state-of-the-art, $10,000 open grill, and tables cut from polished black marble that are large enough to accommodate eight different cuts of dry-aged steak, and the usual multitude of Korean barbecue banchan.
Despite its omnipresence in this era of food mash-ups and pork buns, "fusion" is still a divisive term in the restaurant world, so the key is to not make your cooking feel like fusion at all. It's a credit to the neat simplicity of Cote's concept that the less appealing tropes of the American steakhouse are barely visible here. Yes, you can obtain an overpriced, semi-frozen shrimp cocktail (it's served with a spicy, smooth variant of gochujang sauce for dipping), although if you're wise, you'll call instead for a helping or two of the soft and faintly spicy Korean "boudin noir blood sausage," and the "sweet and tangy" chicken nuggets, both of which are served as bar snacks. I never could bring myself to try the wedge salad (the dressing is tofu and sesame instead of blue cheese), but the Peter Luger–inspired, jalapeño–spiked "Korean bacon" is better than what's served at the creaking, old tourist joint back in Williamsburg, and steak tartare, that ubiquitous speciality, is constructed, inventively, with soy, sesame oil, and slivers of pear.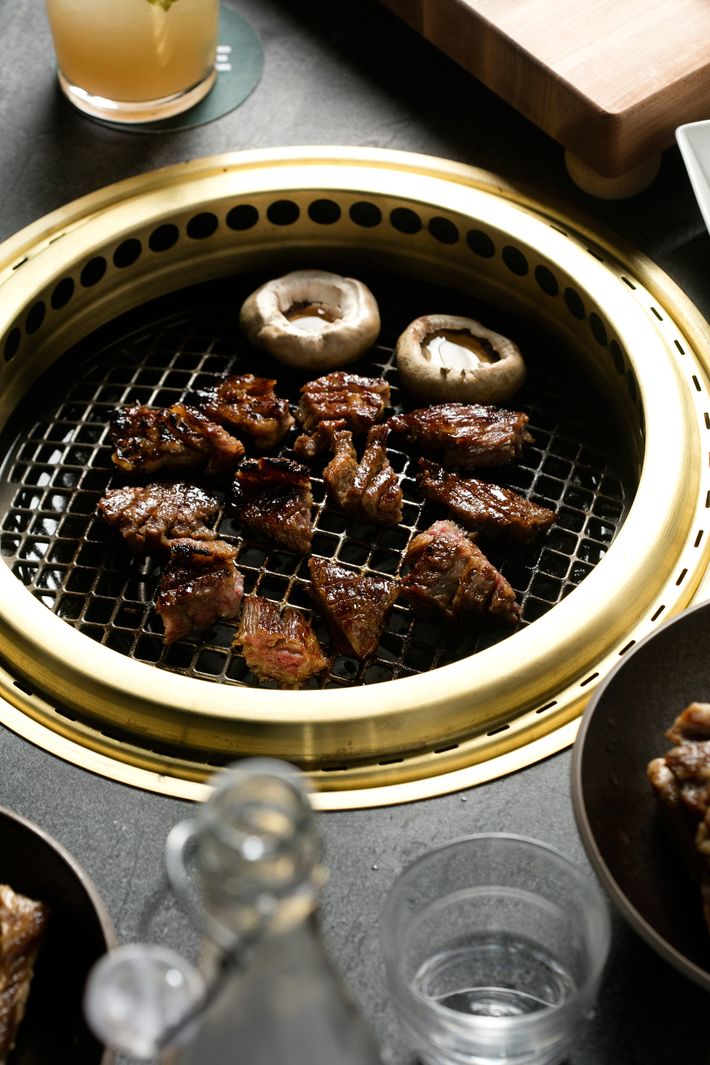 Much of the beef at Cote is stored in a glassed-off "aging vault" downstairs, which is lit a dull fluorescent red, like something that might appear in an American Psycho reboot. After your appetizers, you will likely want to sample the impressive range of deeply flavored rib eyes, sirloins, and wagyu chops stored in this strange little chamber. The most efficient (and economical) way is to call for a Butcher's Feast, which incorporates four cuts of your choosing into a set-course Korean barbecue meal. Being a traditionalist, I recommend the short-rib "galbi," which is marinated in soy, ginger, and a variety of fruit juices (apple, orange, and pear), and which caramelizes impressively on the grill, along with the chunks of pink, faintly funky, 40-day-aged rib eye. Both are served with variations on classic sides, like scallion salad, great fronds of red-leaf lettuce, and a generous pot of fluffy gyeran-jjim, which is a kind of savory Korean egg soufflé.
The gyeran-jjim at Cote is better than any egg soufflé that I can remember enjoying in the Korean establishments along 32nd Street, and so are many of the traditional dishes that appear under the Savory Accompaniments portion of the menu. The kitchen also provides an all-vegetable "Farmer's Basket" for grilling, along with a daily market-fish option that allows the Michelin-caliber chef to keep in touch with his classical roots. You will eat well, even if you stray from the grilled specialities.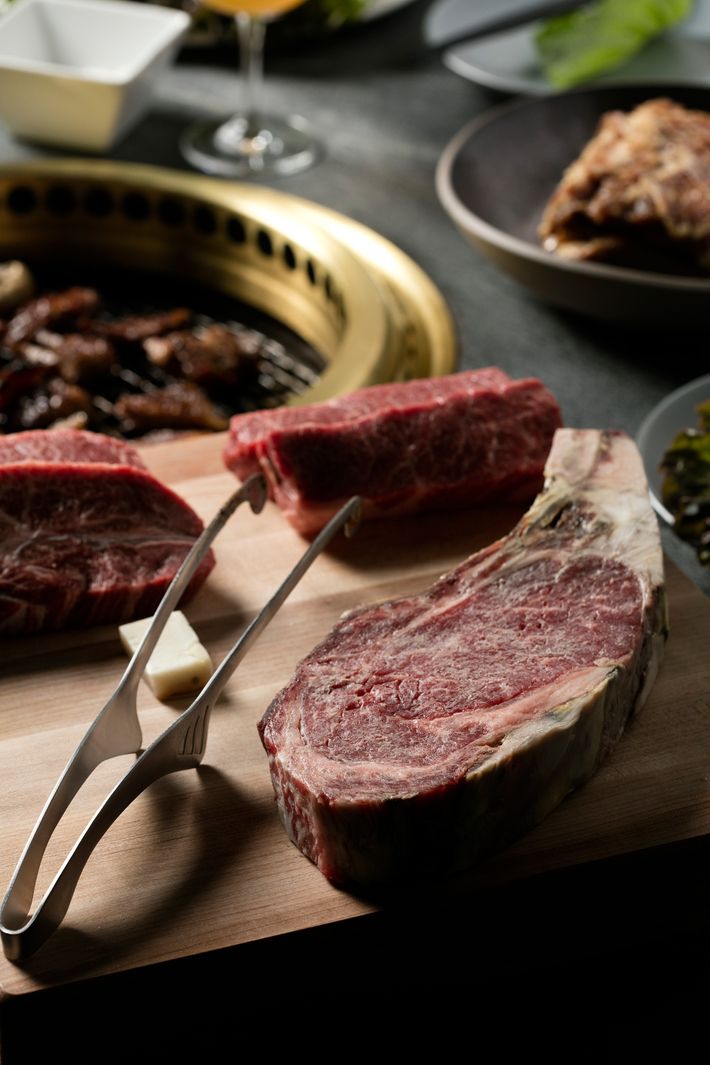 Kim and Shim grew up on the home cooking of the Korean peninsula's north, where the penchant for heat is slightly more muted than it is in the south, which means dishes like kimchee stew (laden with bits of pork belly), and the noodle-rich Jan-chi Somyum (flavored with anchovies) have a more layered, umami-rich quality to them. The most elaborate of the non-barbecue dishes is a fusion creation called Kimchi Wagyu "Paella" (threaded with nuggets of crunchy radish "kkakdooki" kimchee), but the one I'll be ordering again is the classic rice-and-beef dolsot bibimbap, served, according to time-honored custom, in a sizzling lava-stone bowl with a fried egg on top.
It is possible to drink like a traditional steakhouse high roller at Cote, even though the dining room was not filled with the usual assortment of fat cats and big-money whales on the evenings I visited. Beverage director Victoria James has compiled an impressive list of trophy bottles (the list of Premier and Grand Cru Burgundies fills six pages; there are dozens of Champagne options), and if you have the resources, you can also enjoy a variety of lavish off-menu cuts alongside those goblets of wine (ask for the 90-day-aged porterhouse).
One last place where Cote dramatically improves upon the standard steakhouse formula is dessert. The list is mercifully abbreviated, and includes refreshing cubes of watermelon stuck with bamboo toothpicks, alongside little twirls of vanilla soft serve that get dribbled with salted caramel sauce, served in a tiny porcelain cup.
Cote
16 W. 22nd St., nr. Fifth Ave.; 212-401-7986; cotenyc.com
Ideal Meal: The Butcher's Feast if you're in a group, the marinated short-rib "galbi" or dolsot bibimbap if dining alone.
Note: Daiquiri lovers should sample the "Seoul Side," made with soju, instead of rum, and a dash of sherry.
Scratchpad: One star for the ingenious concept, and another two for the more or less impeccable execution.
Full disclosure: One of the restaurant's investors is a fellow parent from our children's old school, and when he first told me about the idea, I thought he was insane.