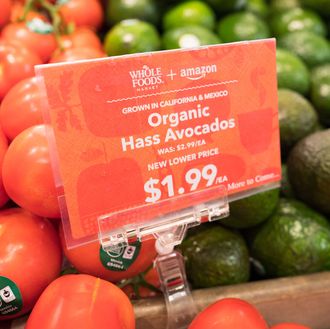 One of the few actual deals.
Photo: Smith Collection/Gado/Getty Images
If your Whole Foods shopping trips since the Amazon takeover have been solely for avocados (on sale for 70 cents off), organic bananas (a third off), tilapia (down from $12 a pound to $8), and eggs (just $4 per dozen), you could be under the impression that the grocery chain has become borderline affordable. But that would probably be wrong: A very strategic markdown did occur on a handful of popular everyday items, but some new number crunching by the research firm Gordon Haskett suggests that prices didn't drop by a meaningful amount at all, and in several cases they actually got higher.
The firm started tracking prices on 110 items at a New Jersey Whole Foods the day the price cuts began, August 28. On average, the items got 1.2 percent cheaper. How could it be so negligible, you're wondering, with Whole Foods slashing prices on some things by as much as 43 percent? Because while the cost of 17 items decreased, this was seemingly counterbalanced by raising the price on 16 of the remaining 110. (For example, frozen foods got 7 percent more expensive, the cost of snack items rose by 5.3 percent, and dairy went up by 2 percent.) Everything else — 77 items — stayed the exact same cost.
This discount jujitsu resulted in a big win for Amazon, naturally. Whole Foods has done $1.6 million worth of sales on Amazon's website alone since coming under the e-retailer's wing ($1.6 billion in just five weeks, in other words). The first week that items were available on Amazon Fresh and Prime Now, 93 percent of them sold out — everything from the obvious (coconut water) to turkey deli meat.
The killer combo of cheaper prices and tons of social-media buzz was enough to lure customers away from all of Whole Foods' key rivals. According to data-analytics firm Thasos Group, 10 percent of Trader Joe's customers checked out Whole Foods the weekend of August 28, while Walmart shoppers were an astounding 24 percent of all of Whole Foods' new customers, and people who usually visited Kroger accounted for 16 percent.