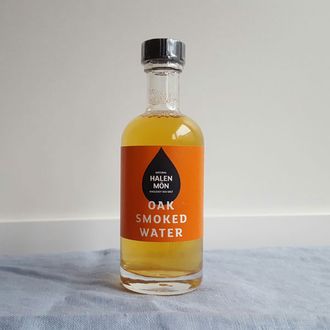 A dab will apparently do you.
Photo: Courtesy of Halen Mon
A couple in Wales has created a perfect beverage to follow your next afternoon in the hot sun: Bottled water that tastes very strongly of burned wood. They made the product for British chef Heston Blumenthal, after he asked for it. "For anyone else, you would say, 'No, you don't normally smoke water,'" David Lea-Wilson, the guy who ultimately created it, tells Bloomberg's Richard Vines. But when the Fat Duck's owner makes a request, you apparently "rise to the challenge."
Blumenthal wanted an easier way to make a smoky risotto, so David and his wife, Alison — who own Halen Môn, a company that produces sea salt for Blue Hill at Stone Barns and Eleven Madison Park — developed Oak Smoked Water. It's made using a process similar to barrel-aging whiskey: For ten days, they circulate filtered tap water through loops that contain oak chips and oak dust. What comes out is an amber liquid with "the cleanest of aromas of burning wood." A 3.5-ounce bottle costs almost $5.50; Vines gamely notes that a bottle of Glenlivet Founder's Reserve Single Malt is more than a dollar cheaper for the same amount. The Lea-Wilsons say it's the only water-with-smoke product on the market (they don't count liquid smoke, for obvious reasons).
It's used in "most" Fat Duck dishes that have a smoked element to them, and seven major food manufacturers now make at least ten different products flavored with their water, from a type of sourdough to turkey brine. (These things appear to be sold only in Britain.) Halen Môn's website suggests being "adventurous" and freezing it into ice cubes for cocktails.
But unlike other gimmicky H2Os screaming out for attention on supermarket aisles today — the cactus waters, tree-sap waters, Blk alkaline waters, Whole Foods asparagus waters, etc. — Oak Smoked Water isn't meant to quench a thirst. Halen Môn says it's pretty much just for cooking. Still, "You have to use it sparingly because it is strong stuff," Lea-Wilson cautions, adding he mostly sticks to marinades and barbecue sauces. "I put it in an atomizer and spray it on."