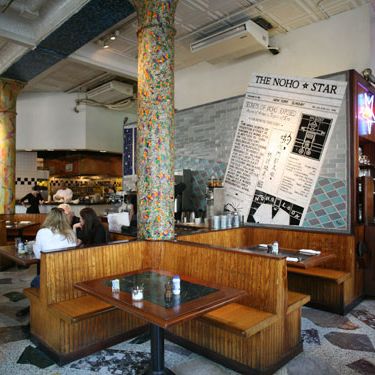 So long?
Photo: Shanna Ravindra
Downtown icon Noho Star may not be long for this world. Jeremiah's Vanishing New York reports that, after 32 years in business, the part New American, part Chinese restaurant will close on December 31. The blog points to a Worker Adjustment and Retraining Notification (WARN) filed for the restaurant and its sister spot Temple Bar, both of which cite "economic" under "reason for dislocation."
In a Times review from 1996, then–25 and Under critic Eric Asimov wrote, "I feel wonderfully calm at NoHo Star, even when a subway rattles underneath," and praised the food as always being "satisfying and delicious." It became a fixture for an older downtown crowd, including model and actress Lauren Hutton, Chuck Close, and others. In an article remembering the late theater director, composer, and writer Elizabeth Swados, author Jonathan Coleman wrote, "She knew how to make the Noho Star seem both the most glamorous and most homey restaurant in the world." Which is exactly the kind of restaurant most people wanted a place like this to be.
The WARN documents make the situation pretty clear, and JVNY reliably catalogues the city's ever-changing landscape, but the situation remains at least a little hazy. When Grub called the restaurant this morning to confirm the news, an employee responded, "No!" with audible surprise. But places like these have been dropping like flies, and the restaurant has another thing going against it. Original owner George Schwarz (who also opened Elephant & Castle and brought back Keens) passed away last year.