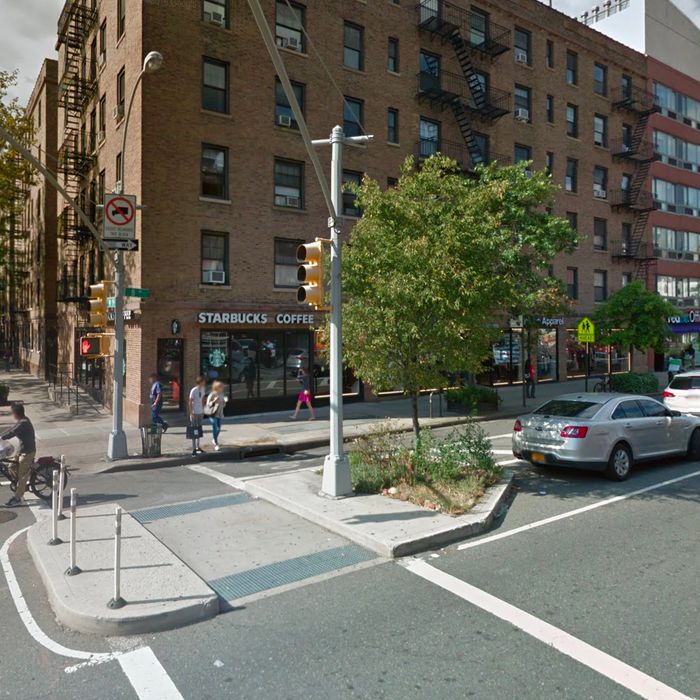 The scene of the caffeinated crime.
Photo: Google Maps
A Starbucks location in Chelsea has experienced a streak of robberies, DNAinfo reports, conducted by a Jesse James of java who has stolen coffee beans while employees served customers. The latest incident occurred on Sunday, when the man walked into the store at 1:06 p.m. and nabbed eight bags of coffee worth a total of $111.60. This was, however, not a one-off heist. In fact, a shift supervisor tells DNAinfo that this Butch Cassidy of beans, described as roughly 40, often returns to the scene of his crimes, coming in "every few weeks."
It's not clear if the bandit is driven by the special thrill of stealing energy beans, has a lucrative black-market deal, or just enjoys sticking it to a chain that has driven many neighborhood coffee shops out of business. Either way, that same shift supervisor says the thief has stolen hundreds of dollars of goods from the store, and is "pretty notorious."
As for how, exactly, this Pretty Boy of Pour-Over continues to get away it, the unidentified man isn't the only shoplifter to target this particular Starbucks. The supervisor says it's just hard to keep your eye on everything when you're already dealing with hoards of customers.
Will the Al Capone of Arabica every get caught? Or will he pull off a series of Italian-roast robberies around the country? As of now, it seems he's still at large, so baristas all over the city might want to keep their eyes peeled.