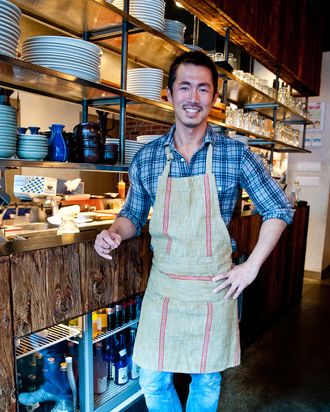 Takashi Inoue was a master of beef.
Photo: Gabi Porter
On October 11, chef Takashi Inoue of the West Village's Takashi passed away at the age of 40. According to a statement posted on the restaurant's Instagram account, he had battled an advanced respiratory illness, was hospitalized for the last six weeks, and died in the New York–Presbyterian Hospital surrounded by family and close friends. The chef's business partner Saheem Ali says a memorial service was held on Saturday.
"There were people there whose lives he had touched who we didn't realize he had touched," Ali says. "He had a generosity that he wasn't very vocal about."
Takashi was one of those rare restaurants that felt like a true original. Inoue took the idea of Japanese grilled meats as a starting point, serving "MEGA" spare ribs and house bresaola, and pushed it to its absolute limit, serving a famously over-the-top array of offal. Dishes such as "testicargot," calf's brain cream with blini and caviar, and aorta were all signatures. When Inoue decided to start serving late-night ramen, he garnished the ultraconcentrated beef broth with fried intestine. It is probably the only place to offer customers a choice of first, second, and/or even fourth cow's stomach. Inoue's talent and taste for offcuts led the journalist and author Nancy Matsumoto to once call him "the Escoffier of offal." The restaurant quickly became considered by many to be one of the city's finest places for Japanese food and offal. The New York Times gave it an "NYT Critic's Pick" two months after it opened. Inoue's cooking would later be praised by New York's Adam Platt and featured on Anthony Bourdain's The Layover. Perhaps the biggest testament to the restaurant's appeal is its always-packed dining room — filled with customers eager to experience Inoue's one-of-a-kind vision.
Inoue was a native of Osaka, Japan, where his Korean grandmother ran a yakiniku, or Japanese barbecue restaurant. He worked in fine-dining restaurants in his hometown, Kyoto, and Tokyo for 12 years, before coming to New York in 2007 to study English. He fell in love with Ali, then a theater student at the Columbia University School of the Arts and now a director. Together, they opened Takashi in April 2010. Neither of them had any experience opening a restaurant, and though they later broke up, they remained business partners and close friends. The restaurant is inspired by Inoue's grandmother's — "I was more focused on bringing my Osaka-style soul food to New York," he told Matsumoto — with touches of Italian, French, and Creole cooking.
Ali says that despite Inoue's passing, the restaurant isn't going anywhere. "We are committed to continuing his legacy. I just think that because of how special and unique he was and the restaurant is, we want to keep it going in his honor," Ali says. " Takashi, for me, was the first time with him that I really considered that eating could engage all five senses. That's really a gift that he's given to a lot of people, and we want to continue giving that gift."