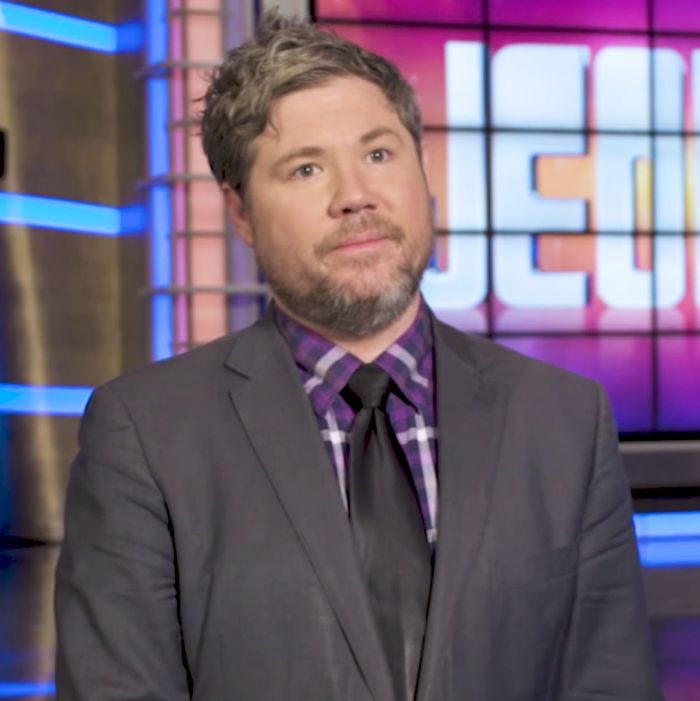 Hey, he had a good run.
Photo: Jeopardy!
It had to happen. Last night, Austin Tyler Rogers, the trivia contestant who stole America's heart, was knocked off his throne of facts. He lost by just $51 to Tennessee homemaker Scarlett Sims, making his 11-day, $411,000 run the fifth-most impressive on Jeopardy!'s all-time regular-season rankings.
As for what he'll do with that money, now that he's flush with cash, Rogers admitted to both the New York Times and U.S. News that he has no idea. Explaining that he's single, happy, doesn't care for nice clothes, and has a good home, he tells the Times, "I don't have much of a need for money." Apparently, he just wanted to prove how good at trivia he is.
What he is thinking about is what's next for him, beyond the bar. Rogers garnered a lot more attention than the usual trivia contestant, appearing on Good Morning America and appearing on The Tonight Show. Saying he's "a bit schizophrenic right," he talked about pitching a TV show, doing comedy, or just starting a history series on YouTube. No matter what happens, fans won't have to wait long to see him again, as he'll be back on November 6 for the Jeopardy! Tournament of Champions.
Here's Rogers, talking to Jimmy Fallon, who is apparently something of an old friend: