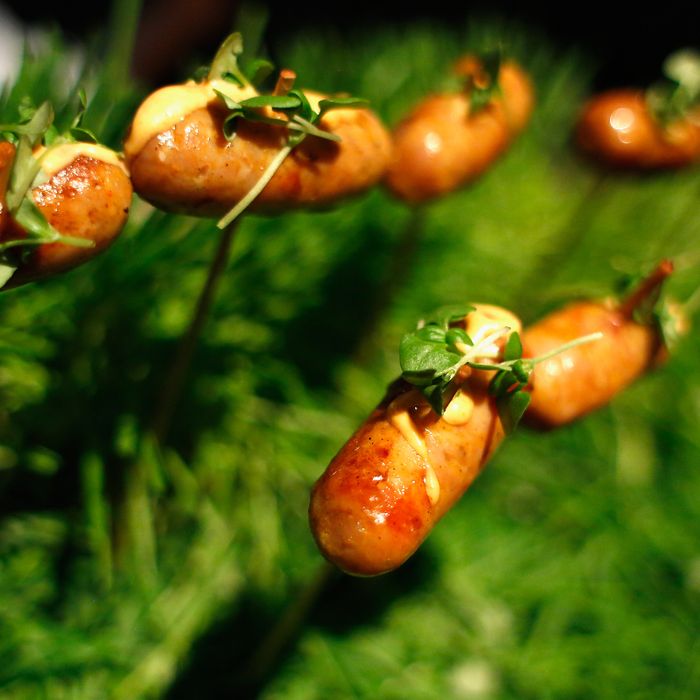 Thai chicken sausages from Rotisserie Georgette at last year's
New York
Taste.
Photo: Brian Ach/Getty Images for New York Magazi
A reminder: On Monday, November 6, some of the city's most talented food and drink professionals will assemble at the Waterfront on 11th Avenue for New York Taste, the annual food-and-drink extravaganza that is back for its 19th consecutive year.
You can check out the full roster of chefs, bakers, bartenders, and more that will be in attendance. There promises to be plenty of highlights. Victoria Blamey of Chumley's will prepare steak tartare with beef-tendon crackers, Wylie Dufresne will be there with Du's doughnuts, Greg Baxtrom of Olmsted will have kale-and-crab rangoons available, Untitled's Suzanne Cupps is working on roasted carrots with cashew butter, plus Angie Rito and Scott Tacinelli of the just-opened Don Angie have a crudo version of a classic vitello tonnato.
How to get tickets? Head right here and choose either a general-admission ticket ($100) or a VIP ticket ($195), which will grant you entrance to a special preview hour, an exclusive gift bag, and access to the VIP Lounge.
Here's the full roster of attendees. We'll see you there.
Neal Harden (abcV)
Gabriele Carpentieri (Aureole)
Jessi Singh (Babu Ji)
Kenta Goto (Bar Goto)
Laëtitia Rouabah (Benoit)
Zachary Golper (Bien Cuit)
Bob Truitt (Casa Pública)
Michael Lomonaco (Center Bar, Porter House Bar and Grill)
Victoria Blamey (Chumley's)
Tom Macy (Clover Club)
Todd Mitgang (Crave Fishbar)
Daniel Alvarez (Daily Provisions)
Kristen Tomlan (DŌ)
Angie Rito and Scott Tacinelli (Don Angie)
Wylie Dufresne (Du's Donuts and Coffee)
Matt Hyland (Emily)
Michael Ayoub (Fornino)
Ron Paprocki (Gotham Bar and Grill)
Miroslav Uskokovic (Gramercy Tavern)
Roxanne Spruance (Kingsley)
Laurent Tourondel (L'Amico)
Anthony Sasso and pastry chef Thea Habjanic (La Sirena)
Guillaume Ginther (Le Coq Rico)
Michael Vignola (Life Restaurant)
Simone Tong (Little Tong Noodle Shop)
Galen Zamarra (Mas (farmhouse))
Frances Tariga (Megu)
Norberto Piattoni (Mettā)
Sam Mason (OddFellows Ice Cream Co.)
Greg Baxtrom (Olmsted)
Michael Han (Ortzi)
Tim Cushman (O Ya)
Floyd Cardoz (Paowalla)
Audrey Saunders (Pegu Club)
Bill Yosses (Perfect Pie)
Matt Abdoo (Pig Bleecker)
Joe Ng (RedFarm)
Dale Talde (Rice & Gold)
Georgette Farkas (Rotisserie Georgette)
Michelle Petrulio (Salvation Taco)
Jorge Espinoza (Scarpetta)
Mina Newman and Taku Nagai (Sen Sakana)
Toshio Suzuki (Suzuki)
Thomas Chen (Tuome)
Suzanne Cupps (Untitled)
Justin Smillie (Upland)