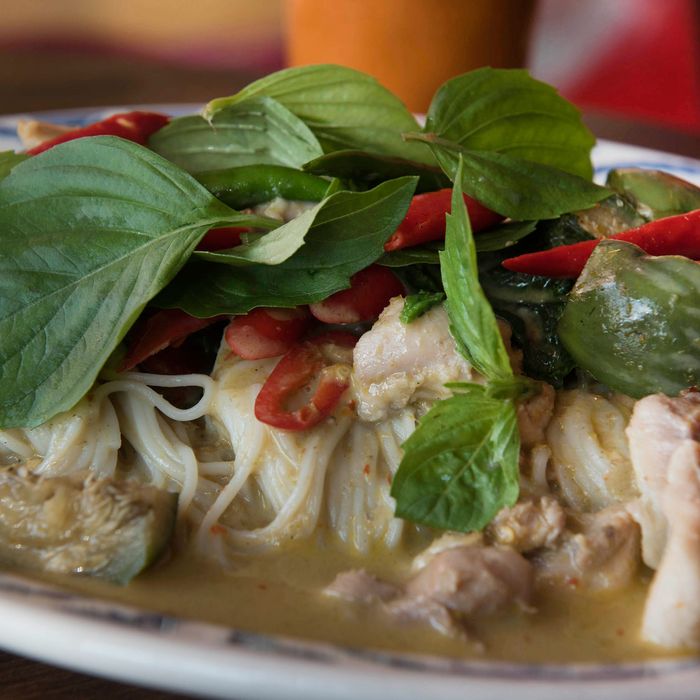 Ugly Baby's kanom jean kiew warn gai.
Photo: Liz Clayman
The weather in New York has been oddly summery, only occasionally dipping into fall-like temperatures. No matter: It's always the right time of year for noodles — hot or cold, spicy or mild, brothy or saucy. Luckily, New York has seen a spate of recent openings that are doing very good things with flour, from Korean Ramyun spot Jeju to the Uncle Boons spinoff to yet more rice-noodle specialists. Which is a good excuse as any to go out and eat some more. Here, 12 new dishes to check out:
Kanom Jean Kiew Warn Gai
Where: Ugly Baby
How Much: $18
One of the chefs formerly behind Kao Soy and Chiang Mai, Sirichai Sreparplarn, is cooking dishes like this fiery green curry with rice vermicelli and chicken.
Fish Coop Ramyun
Where: Jeju Noodle Bar
How Much: $16
Douglas Kim worked in fine-dining restaurants like Bouley and Chef's Table for nearly two decades before opening his own spot, and it shows in the way he precisely layers flavors and subtle surprises into his Ramyun. Take the chicken and bonito-based Fish Coop, a fish broth with herb oil and sprigs of dill that infuse the soup with a sweet, slightly anise-y flavor.
Phat Thai
Where: Uncle Boons Sister
How Much: $15
Americanized strip-mall pad Thai is to the genuine article what Sbarro is to Joe's Pizza. Good phat Thai is a dish you can eat every day, and at this takeout spinoff of Uncle Boons, they're serving the street-food staple with prawns.
Bi-bim Somyun
Where: Cote
How Much: $14
Meat is the main show at Cote, yes, but supplement your kalbi with a bowl of this cold Korean angel-hair pasta with crunchy apples and iceberg lettuce and gochujang vinaigrette, which will hopefully rejuvenate you and fend off the meat sweats.
Not Ramen
Where: The Aviary
How Much: $27
The experimental, high-minded bar has imported some of its Chicago signatures with it, but it doesn't pull any tricks with its "not ramen." It's a light mushroom-dashi broth served with house noodles, nori, and a soft-poached egg. (And, if you still need more carbs, don't forget that the location also serves Grant Achatz's famous black-truffle-explosion ravioli.)
Ma La Chicken Mixian
Where: Little Tong
How Much: $15
The East Village serves a creative take on Yunnanese rice noodles, like this recently introduced bowl of pulled spicy chicken, a cold spicy chicken broth, Sichuan peppercorn, chili oil, shallot chips for crunching, and more.
Hot and Sour Mixian
Where: Deng Ji
How Much: $6.75
More rice noodles? Why not. The popular Chinatown spot serves a hot and sour variation, made with beef, chili oil, and pickled green chiles to make your cheeks pucker.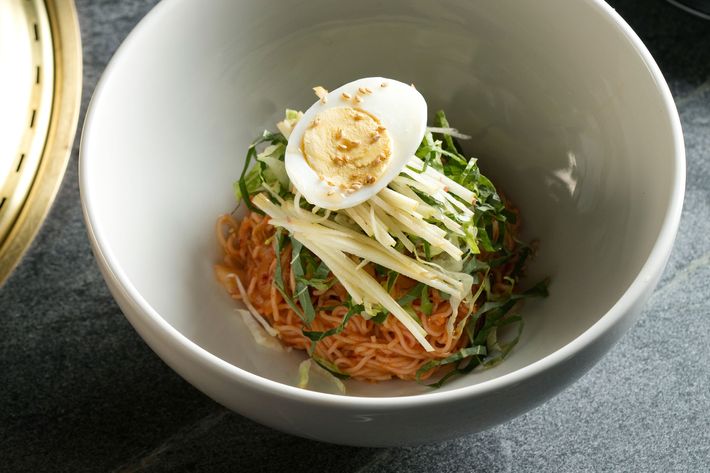 Spicy Mung-Bean Noodles
Where: Just for Fen
How Much: $8.95
This small, brightly-lit East Village spot is the latest rice-noodle specialist, but if you're looking for a break, it also serves cold mung beans made spicy with chili oil and served with pickled radish, crunchy soy beans, shredded mushroom stems, scallion, and cilantro.
Shanghai-Style Stir-Fried Noodles
Where: Nom Wah Tu
How Much: $9.95
Chorizo and clams are one of those unbeatable combinations. Jonathan Wu has made a signature out of pairing the shellfish with the Chinese sausage lap cheong, which he mixes here with fermented black beans, garlic chives, chili oil for a little bite, and thick, chewy stir-fried noodles.
Pork Sisig
Where: Rice + Gold
How Much: $31
At Dale Talde's latest restaurant, the menu includes some takes on classic Filipino dishes. Like his sisig with rice noodles, pork neck, pork ear, egg, and calamansi lime.
Shrimp Scampi
Where: The Loyal
How Much: $22
John Fraser sticks to the classics at his new brasserie, where he's serving a dish that needs no real upgrades: shrimp scampi, the Italian-American preparation of shrimp sautéed with white wine and garlic and served with butter noodles.
Pappardelle
Where: Popina
How Much: $19
Noodles? No. Pasta? Yes. But, really, do we need to be splitting hairs here when we can be eating pappardelle with a ham-hock ragout, shishito peppers, and kale? No.