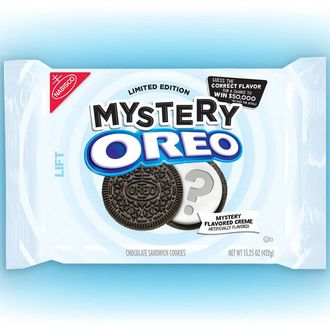 It at least
looks
mysterious.
Photo: Courtesy of Oreo
Oreo's classic chocolate wafer–vanilla creme combo has been getting one-upped since the day Nabisco and Mondelez discovered the power of viral marketing. Oreo's "Wonder Vault" has trotted out all sorts of limited-edition spinoffs in recent years, from clever riffs like Red Velvet to, well, Swedish Fish and Peeps. But the company is learning that when the game's shock value, ideas run out fast: A few months ago, Oreo was forced to debut fanmade #MyOreoCreation flavors ("Avocado," "Rainbow, Shure Bert!"), and now that this stunt has also gotten stale, it's moved on to a Mystery Flavor pack that someone will win a lot of money for guessing correctly.
There's $100,000 on the line in prize money. Just buy the all-white pack, eat the intentionally boring-looking cookie, divine the secret flavor, then submit the guess on Oreo's special website. One person receives $50,000, and five others will get $10,000 runner-up prizes. Oreo is limiting it to one guess per day through November 30, but if you want an advantage over the competition, here's a spoiler: There isn't much "mystery" about the taste. Consensus among the Robert Parkers of the creme-filled-cookies world is that the new flavor is undeniably fruit cereal–like — enough to literally be Froot Loops or Fruity Pebbles. Some reviewers have said "Axe body spray," if you're looking for a dark horse, and another educated guess is "Cereal Milk Oreos," if you're looking for something that could get them sued by Milk Bar.
Another free tip: Last summer, fans got Fruity Crisp Oreos, a flavor disappointed reviewers described as tasting "exactly like Fruity freaking Pebbles, right on down to that initial Paleolithic burst of cloying artificial fruit flavor," so either that one is out, or the company is doing some really ingenious repackaging of unsold product.