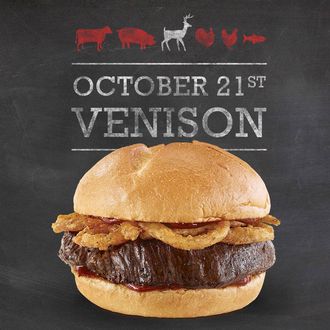 Hunters have a beef.
Photo: Arby's/Twitter
Ten glorious or very weird days ago, depending on how you feel about game meat, Arby's locations nationwide started selling a limited number of deer sandwiches (plus, if you were near three stores in Montana, Wyoming, and Colorado, an even tinier number made from elk). This is the second hunting season in a row that the chain's dabbled in menu items comprised of 100 percent wild game. Last year's release to just 17 stores in "heavy deer hunting areas" sold out almost instantly, and Arby's did manage to build a little on that success — it says plenty of locations ran out of meat (about 50 to 100 sandwiches' worth per store) on day one yet again. Unfortunately, that plus its vast array of "the meats" from other animals still haven't made Arby's the official fast-food chain of America's hunters: NPR says it's made enemies of Montana's biggest group of conservationists and hunters with its wild-game stunt.
The Montana Wildlife Federation has sent Arby's CEO Paul Brown a complaint letter arguing that it's "tone deaf to Montana values." The letter adds that farm-raised game-meat sandwiches "run counter to core Montana values of public wildlife and consumption of healthy protein through ethically killed game. Elk and deer are best left as wild, free-ranging animals." It doesn't help Arby's case that back in 2000, Montana's voters passed an initiative prohibiting wild-game livestock farms. Supporters of the measure argued that the practice of farming wild animals is cruel, and can also cause illnesses like chronic wasting disease.
In response, Arby's says the meat is "grass-fed" and "free-range farmed using responsible practices," adding that it's also "the highest quality venison you can get anywhere in the world." In fact, it's identical to what you'd find at nice restaurants around the country that serve wild game. "You can't procure venison in the United States at scale to commercialize, so you have to go all the way to New Zealand to get this," the company's president Rob Lynch says. But hunters say the meat's quality isn't the top concern on their list. The most important thing is "the principle of selling an animal that most Montanans recognize and hold dear as a wild animal" and "a symbol of the Rocky Mountain West."