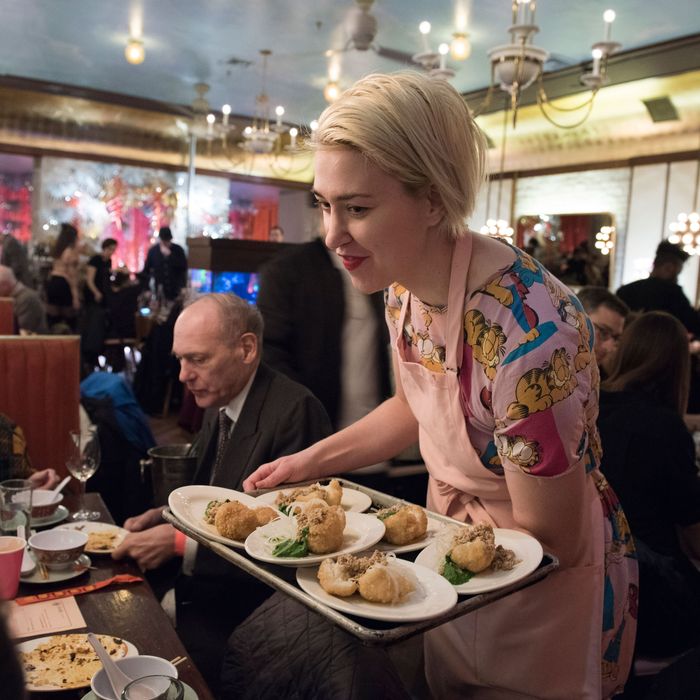 The Chongqing chicken wings are headed for Brooklyn.
Photo: Liz Clayman
Danny Bowien has talked about opening more Mission Chinese Food locations since the first Manhattan restaurant opened. Now, five years after expanding the San Francisco restaurant to New York, he and co-pilot Angela Dimayuga will open a third branch — this one in Brooklyn, news that Bowien confirmed during a TimesTalks panel last night with Anthony Bourdain and Times writer Kim Severson. When Grub texted Bowien to ask if the Brooklyn location would differ in any way, the chef only wrote back, "stay tuned."
An Instagram post from 8-Ball Community Inc., a nonprofit publisher that has worked with Bowien, announced the Bushwick location would open in March 2018 at 599 Johnson Avenue. (The 24,000-square-foot warehouse is also home to the long-delayed Elsewhere, from the owners of the shuttered Williamsburg music venue Glasslands.) It was promised to have a café, roof bar, performance spaces, and gallery, but the restaurant will have a separate lease and occupy the street front with the venue tucked behind. In any event, more information on the project will surely trickle out soon.