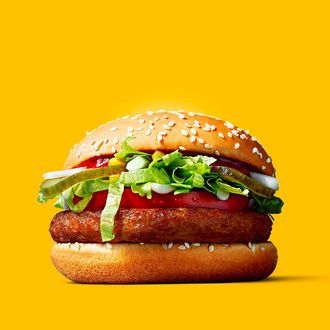 There's no beef with this sandwich.
Photo: McDonalds/Instagram
McDonald's has never held herbivores in terribly high regard. It literally serves no sandwich that's vegan-friendly for any meal of the day, and you get the feeling it'd still be frying potatoes in beef fat if not for a class-action lawsuit. Also, there was that time it made a "kale is dumb" joke (which has since backfired, but that's another story). At any rate, all this to say, the chain clearly hopes that inhospitality can be water under the bridge, now that a vegan burger has finally materialized underneath the Golden Arches. To really hammer home its 100 percent vegan-ness, it's being called the McVegan — which somehow feels like the fast-food equivalent of learning Superbad's McLovin had a midlife crisis and changed his name. Now that better burger chains have such sophisticated meat alternatives, its soy patty looks pretty bare-bones, but the sandwich has a quasi-healthy veneer going otherwise: a single patty topped with lettuce, a thick tomato slice, pickles, onion, ketchup, and mustard on a sesame-seed bun.
The downside is, you can't get it anywhere outside of Tampere, a city of about 225,000 people in Finland. McDonald's locations in that country already have several veggie items their American counterparts lack, including something very hearty-sounding called the Kasvis Feast (kasvis is Finnish for "vegetable"), so Tampere was probably a good call for the product's testing grounds.
The burger has a short window of availability, regardless — it rolled out yesterday, and goes away November 21. McDonald's is already having to tell media that it has no plans to bring McVegans to the States, but again, everyone saw what happened the last time it swore "never" to introduce something.