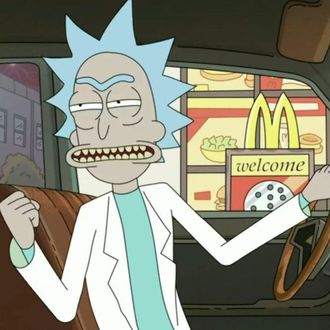 The sweet taste of victory.
Photo: Adult Swim
On October 7 at 2 p.m., McDonald's will bring back Szechuan Sauce for a "one-time-only, limited-edition" daylong run. Why a customer would want Szechuan Sauce — a mediocre teriyaki-style sauce discontinued 19 years ago — to come back is an excellent question, but one that fans of Adult Swim's Rick and Morty will gladly answer for you, because they're effectively the only reason it's emerged from the chain's menu-item graveyard.
The dip's life span was brief and largely unexciting: McDonald's rolled it out in the summer of 1998 as a tie-in to Disney's new animated movie Mulan. For several weeks, kids' McNuggets Happy Meals included one of eight Mulan toys and the sweet, tangy sauce. It went away when the promo ended, and the world seemed completely at peace with that.
But then Justin Roiland, Dan Harmon, and the rest of Rick and Morty's creators made Szechuan Sauce a plot point in episode one of season three, which premiered back on April Fools' Day. The opening scene is Rick Sanchez time-traveling through his old memories. He's doing this specifically to go back to 1998, so he can reexperience Szechuan Sauce one more time.
The episode ends in present day, with Rick going berserk about the missing dip. "I'm not driven by avenging my dead family, Morty — that was fake!" he yells, his mouth literally foaming. "I'm driven by finding that McNugget sauce." He adds that it might take nine seasons or 97 more Rick and Morty years, but one day he will taste Szechuan Sauce again:
This eagerly awaited season-three premiere dropped out of the blue, so Rick and Morty obsessives got worked up into a frenzy in fan forums and on social media. Demands began for McDonald's to reintroduce the sauce. At first, the chain did nearly nothing — it tweeted the words "McNugga Lubba Dub Dub" in a reply to @RickandMorty. But when season three started in earnest a few months later, the company was ready with a special Szechuan Sauce giveaway. Three fans received comically oversize 64-ounce bottles of their own sauce. People online were actually very upset that they didn't win, and one guy resold his tub on eBay for several thousand dollars to Deadmau5. Deadmau5 had to interrupt his own wedding weekend to buy it.
McDonald's PR team would need to be fired if it didn't milk this for everything it's worth, so it has now created a "Get Obsauced" website. It promotes a collectors'-edition poster and the rollout of a brand-new Signature Sauce (merely described as "Unique, Stylish, Tasteful") that customers can try while they're at a store for the "really" limited run of Szechuan.
"When we say limited," the site cautions, "we mean really, really limited!" It lists the participating stores online that you'd need to visit in time on October 7 to snag some. Most people aren't going to be pleased when they check the ones in their area, though it looks like people in Manhattan have eight locations to choose from.