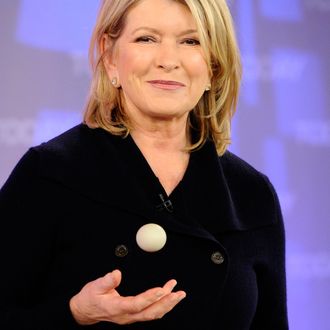 Going into her carry-on as soon as it comes back down.
Photo: Peter Kramer/NBC NewsWire via Getty Images
This week, the New York Times wrangled Martha Stewart for its Carry-On column, and the walking food trademark/Snoop Dogg bosom buddy/very bad Instagrammer admits she's a bona fide "bag lady" when it comes to travel. For example, one iPad isn't enough on flights — she requires three ("I don't like erasing"). She also tells the paper that, like most sentient beings, she avoids airplane food.
Unlike maybe all other human beings, however, that apparently translates into this item in her Rimowa suitcase:
My hard-boiled eggs are just so much better than any eggs on the plane. They're from my own chickens. I take them for everybody I'm traveling with.
Apparently it's not just eggs she's got in there either. She comes with a variety of "very good food that I know I'll want to eat on the plane." This might be a freshly prepared tabbouleh salad, it might be homemade yogurt with fruit — or it might be a full smoked-salmon sandwich that she extricates from her bag and forces you to smell. So, yes, she's that kind of seatmate.