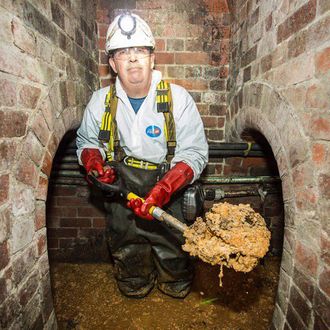 A worker hating his life shoveling the latest fatberg.
Photo: Thames Water/Twitter
London has a new explanation for the rise of its disgusting fatbergs. A just-released report claims that a "staggering" 92 percent of restaurants around town are helping "feed" the globs of fat, toiletries, and other gross stuff that congeal underground and give respectable Londoners instant heebie-jeebies. They've been a vile problem for years, blocking sewer after sewer, although the assumption's generally been that "flushable" wet wipes — which don't decompose fast enough — are to blame more than anything else.
Turns out, not quite, says an investigation into London's latest fatberg, an "evil, gut-wrenching, rancid blob" (to quote the area water company) that threatened to flood East London's streets with raw sewage just last month. It initially stretched over 800 feet — longer than Tower Bridge. Water-company executives told the Guardian that it's "up there with the biggest we've ever seen." For weeks, giant teams have been excavating it into tankers with shovels and high-powered jets, and everybody's been pretty understandably livid about its existence the entire time.
Today, Thames Water finally released its report on the fatberg's cause, and it found that nine out of every ten London restaurants don't have a functional grease trap. Bonus fact: Just looking at restaurants on the road above this new fatberg, not a single one of those had a grease trap installed. "We're not suggesting anyone intentionally pours the contents of a fat fryer down the drain," a company executive told the Guardian, adding, "it's more about the gunk that comes from dirty plates, pots and pans."
Thames Water complains that it spends more than £1 million a month unblocking London's sewers, and really wants the city's grease-producing restaurants to meet them just part of the way. Those that didn't have proper systems installed before will be "visited again" by inspectors in the coming months, only this time, they'll face prosecution if grease traps still aren't in place.