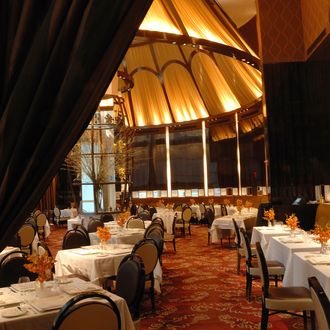 Time to close the curtains.
Photo: Courtesy of Le Cirque
Forty-three-year-old Le Cirque has suffered in recent years: bankruptcy filings, class-action and sexual-harassment lawsuits, sinking reviews — the storied restaurant's future looked bleak. It's not exactly a surprise, then, that Sirio Maccioni and his son, Mauro, will close Le Cirque after dinner on New Year's Eve.
Just this week, Mauro told Eater that they have two years left on their lease, and that he was waiting for his father to return to Italy to sit down with their landlord. The Maccionis are now citing high rent as their reason, but their problems clearly extend far beyond that roadblock.
Still, the New York Times reports that they're looking to move the French restaurant to a smaller space closer to Madison Avenue. To be fair, the restaurant has relocated three times throughout its history. But perhaps this can serve as a lesson to New York restaurateurs — nothing good can come from hosting a fundraiser for Donald Trump.