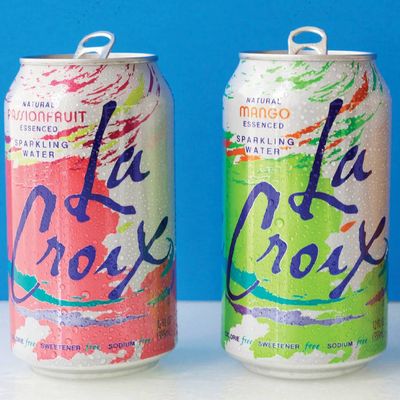 Won't fizzle out without a fight.
Photo: La Croix
Surprise: LaCroix may be everywhere, but shares of its Florida-based parent company — National Beverage Corp. (which trades under the ticker symbol FIZZ) — have dropped by 23 percent in the last month. There are many reasons for this, none of which is particularly interesting to non-finance types, but what is interesting is the press release that 81-year-old CEO Nick Caporella issued. Ostensibly, it's designed to assuage investors' fears, but it is really a gift to everyone because it is bonkers.
Here, Caporella clarifies his thoughts on why his company's stock price has dropped:
What's creating the volatility relative to the stock market with FIZZ? Today less than 15% of the daily volume traded on major exchanges is financially driven by company fundamentals. Over 50% of all daily exchange volume is driven by traders gambling on fleeting price moves and stocks paired with derivatives.

Are perpetrators stimulating self-serving movement by stating falsehoods, creating rumors and deliberately manipulating FIZZ value? We think so!
Caporella, you see, wants to set the record straight:
THE CERTIFIED TRUTH:

• First quarter 2018 — BEST EVER!

• Second quarter growth — STEADFAST!

• Annual revenues have now exceeded $900 million dollars! One billion target now approaching!

• Trailing Twelve Month operating margin increases!

• Consumer excitement is fueled by LaCroix's new flavor, Key Lime, Canadian launch and new flavor introductions for Club and Drug channels!

• No TYPICAL beverage company is delivering the fundamental financial performance of FIZZ!
After the CEO took a moment to talk about an unnamed analyst and to complain about short sellers, he made an impassioned appeal for people to resume investing as usual:
FIZZ extraordinary fundamentals reflect STRONG SUSTAINED PERFORMANCE! Are high-frequency trading, BOT stampeded results, inflated short positions and … current world anxiety — stimulating strange and unprecedented circumstances?

THE OBSCURE SILVER LINING IS A UNIQUELY-INDUCED OPPORTUNITY.

If you have the opinion that I, Nick A. Caporella, am angrily exercised while extremely fortunate to be guiding FIZZ, your opinion is quite accurate!
It's worth noting that National Beverage Corp. also makes something called Rip It Energy Fuel and you have to imagine that this is exactly the way anyone would write after drinking a couple cans of it. RIP IT! INVEST! ARRGH!