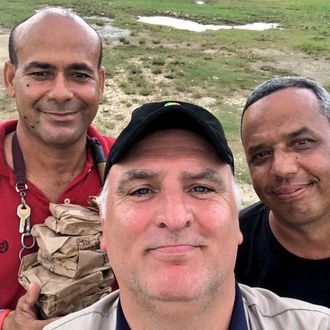 Still hard at work.
Photo: Jose Andres/Twitter
José Andrés's valiant attempt to put something warm and delicious in the stomach of every hungry Puerto Rican has passed a new milestone — 350,000 meals served, enough to feed every one in ten residents. The chef has been feeding people on the storm-ravaged island since September 26, ten days after Hurricane Maria dished out "apocalyptic" damage there. Andrés's World Central Kitchen team quickly established a base inside Puerto Rico's biggest stadium, the Choliseo, where they continue to prepare tens of thousands of sandwiches and helpings of arroz con pollo. But in the last two weeks, volunteers have done an incredible job expanding into the island's more remote regions via food trucks and smaller pop-ups, and working to take over school cafeterias that would otherwise remain empty, thanks to the storm:
This weekend, Andrés tweeted they'd opened a new kitchen in the city of Farjado, where 9,000 people were fed yesterday. Right now, they're serving nearly 50,000 meals per day across the entire island — which means they could crack half a million by the end of the week. Clearly, those vats of paella are at least as humongous as they look:
In recent days, Andrés's team has done door-to-door deliveries, used the National Guard to distribute 400 meals in an area that got ten feet of floodwater, and endured bad weather of their own. Andrés also added this weekend that his World Central Kitchen group will have to scale back efforts in the near future, but he's optimistic that the framework is in place so that no Puerto Rican will go hungry — in fact, he predicts enough volunteers have joined the #ChefsForPuertoRico cause that they'll soon be cranking out 350,000 meals every couple days. "We're going to do 200,000 meals a day, no problem," he said in a video last night.