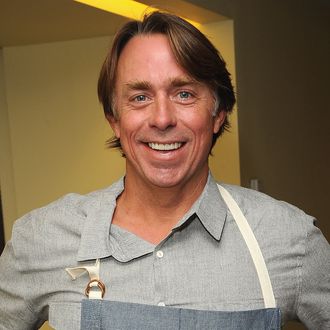 Besh says he regrets "any harm this may have caused."
Photo: Chance Yeh/Getty Images for NYCWFF
Over the weekend, the New Orleans Times-Picayune published a bombshell report detailing allegations of sexual harassment and assault against hometown celebrity chef John Besh's restaurant group. Twenty-five female employees told the paper they're victims of sexual harassment, and the investigation — eight months in the making, and written by the paper's chief food critic Brett Anderson — describes a work environment at the 1,200-employee Besh Restaurant Group where male co-workers and bosses routinely "touched female employees without consent, made suggestive comments about their appearance and … tried to leverage positions of authority for sex."
Besh himself, married for 26 years, is accused of trying to "coerce" several employees into having sex, and the paper reports he and longtime business partner Octavio Mantilla, who's also accused of "excessively touching" female employees, refused to create any kind of HR department that could've handled these workers' complaints.
Besh has issued an apology of sorts, but that hasn't stymied the fallout against his restaurant empire. Alon Shaya, who won a James Beard as executive chef at three of Besh's restaurants, says he was fired for helping the Times-Picayune write this exposé, and he's now embroiled in a trademark battle with the company. Yesterday, Harrah's became the first company to cut ties — it pulled the plug on Besh Steak, the chef's second-ever restaurant that opened in the casino in 2003.
Here's how others have publicly responded:
But this is a small group — what's also notable is how many chefs and restaurateurs have stayed silent, at least so far. As Jen Agg, a Canadian restaurant owner who authored a book about gender and restaurant culture (I Hear She's a Real Bitch), noted:
It's only been two days since the news broke, but for an industry that's obsessed with discussing hospitality, hopefully this will serve as a much-needed wake-up call to better protect and take care of women.