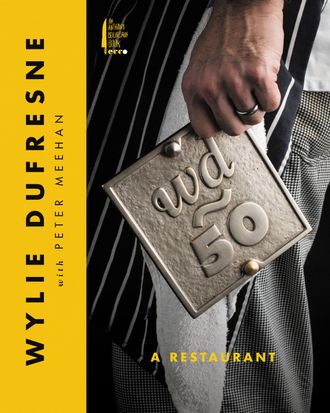 "I love a dish where everything is not what is seems," writes the chef, Wylie Dufresne, in wd~50: the Cookbook. The book, which Dufresne co-wrote with Peter Meehan, is his first. It's out on October 17, almost three years after wd~50 closed for good. In other words, the book is a little late, no? Dufresne acknowledges as much in the first line of his introduction, writing that he hoped to create something that could do for young cooks what "greats" like Michel Bras's Essential Cuisine did for him: namely, provide inspiration and a look at the creative process of an entire restaurant. (The book also puts plenty of focus on all of the people besides Dufresne who made wd~50 what it was.)
For those who never got a chance to eat at the restaurant, but always wanted to know what deep-fried mayo tastes like, the book will do that, too, since it is, first a foremost, a collection of recipes. And while it's not an ultra-aspirational Modernist Cuisine–style tome, it's hardly a conventional cookbook. Dufresne and Meehan devote an entire chapter to unusual foie gras and another to nonconventional noodles ("by using meat glue and gelatin together, we found we could create noodles out of pretty much anything").
The book offers insight into the thinking behind the restaurant, including Dufresne's obsession with a certain German specialty ("we went crazy with spätzle"), and Alex Stupak's Universal Theory of Peanut Butter and Jelly (in short: You can pair any food that's nutty, salty, and sweet with one that's fruity, sweet, and acidic). In New York, wd~50's influence is hard to avoid, and this is clear from the giant family tree that Dufresne managed to cultivate there, and the cameos — from chefs like J.J. Basil and Stupak — sprinkled throughout the book. Below, take a look inside, and head here to order a copy.