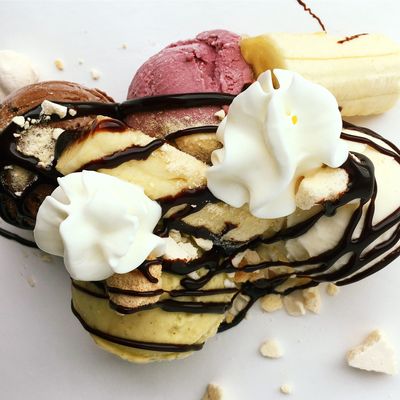 The signature sundae has bananas, hot fudge, and housemade meringues.
Photo: Michael Cortinas / Il Laboratorio del Gelato
In the decade and a half since Jon Snyder launched Il Laboratorio del Gelato as a primarily wholesale business, New York's ice-cream universe has seen the rise of pastry-chef passion projects like Morgenstern's and OddFellows; Instagram-bait novelties like Thai rolled ice cream and Japanese taiyaki cones; and soft serve in every conceivable getup, from cotton-candy-coated to Salty Pimped. All the while, Snyder, who relocated his plant to larger, truly lablike premises in 2010, has been steadily building his inventory of more than 300 seasonal and innovative flavors, many of them at the behest of his chef clients.
"I've sort of ceded the retail landscape to upstarts, and I've just been thinking for a while that our retail presence could be larger," says Snyder. "It couldn't be much smaller." So by the end of the year, he plans to open a Greenwich Village outpost — situated directly across the street from Amorino, no less, and within scoop-tossing distance of Van Leeuwen's roaming truck. "While I have no interest in antagonizing the owners of Amorino, I think healthy competition is, well, healthy," says Snyder. "Creating a gelato 'hub' on the corner of 10th and University seems fun, too."
There will be bench seating for 12, a newish four-flavor signature sundae and some of the city's best under-the-radar ice-cream cakes, and a rotating assortment of 48 flavors of gelato and sorbet. (In Il Laboratorio land, fall means not just pumpkin, but sweet potato and butternut squash, plus seven kinds of apple and five varieties of fig.) New to this location will be an ice-cream sandwich. "It will be a rectangle," says Snyder, who emphasizes that the focus will be on the gelato. "Many sandwiches are more about the cookie. Not this one. Although it will be a good cookie!"
56 University Pl., at 10th St.; no phone yet