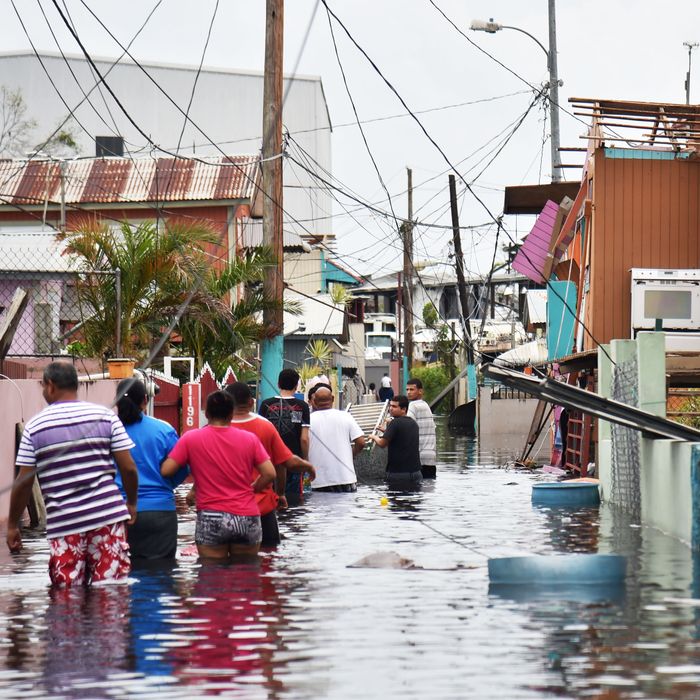 Puerto Rico was devastated by Hurricane Maria.
Photo: Hector Retamal/AFP/Getty Images
It's been several weeks since the last in a series of natural disasters hit Mexico, the Caribbean, and the American South. Those three hurricanes and two earthquakes caused billions of dollars' worth of damage, and people are still reeling. The death toll in Mexico City is still rising, and in Puerto Rico, the American general overseeing relief says the damage "is the worst I've ever seen," while its governor warned the situation could "turn into a humanitarian crisis." Needless to say, people still need help — and will continue to.
It goes without saying that you should (if you can) donate to local and grassroots organizations, or funds that know where to direct donated money. To name a few: ConPRmetidos has raised over $1,238,000 in an emergency fundraiser for Puerto Rico; GlobalGiving is raising money for vetted local organizations helping people affected by Hurricane Irma; and the José Andrés–led World Central Kitchen has, inspiringly, fed thousands of people in Puerto Rico. If you'd like, you can also contribute by doing something as simple as buying your morning coffee at a deli that's donating to relief efforts, or by attending one of several fundraisers that are happening around the city.
The Loverboy Loaded Tecate Benefit for Puerto Rico
Where: Loverboy
When: October 4, 7 p.m. to 11 p.m.
On Wednesday, the East Village bar Loverboy and Mexican brewer Tecate will host a fundraiser for Puerto Rico, with Puerto Rican dishes like bacalaítos (salt-cod fritters) and tostones, as well as coquito slushies and lots of Tecate. All proceeds will be donated to United for Puerto Rico.
QUI Tequila + Casa La Femme Mexico City Earthquake Relief Fundraiser
Where: Casa La Femme
When: October 5, 8 p.m. to midnight
How Much: $150
Tequila brand Qui and downtown Persian restaurant Casa La Femme have partnered for this party to benefit Direct Relief's efforts to help Mexico City earthquake victims. There will be an open tequila bar, cocktails, passed food, and a DJ.
BK pa Borikén
Where: Mad Tropical
When: October 5, 9 p.m. to 2 a.m.
How Much: $5 in advance, $10 to $15 at the door
This will be the first in a series of events from Brooklyn's DJ Bembona and Ojos Nebulosos Photography, with 100 percent of proceeds going to relief work by the anti-colonialist organization El Campamento Contra La Junta.
World Central Kitchen Benefit
Where: Southside Coffee
When: October 7 and 8, 8 a.m. to 6 p.m.
How Much: Whatever you buy
All weekend, sandwich shop and cafe Southside Coffee will donate 10 percent of sales to World Central Kitchen.
Bake Sale for Puerto Rico
Where: Playground Coffee Shop
When: October 8, 9 a.m. until everyone's sold out
How Much: Whatever you buy
Writer Dayna Evans (a former Cut staffer and, relevant to this event, talented baker) and friends have organized this bake sale to benefit World Central Kitchen's efforts to feed Puerto Ricans.
NY ❤️ MX
Where: The offices of Remezcla
When: October 13, 7 p.m. to 11 p.m.
How Much: TBD, tickets will go live on October 5
Fany Gerson has organized this event for her hometown of Mexico City, which will benefit the Global School Spirit Foundation's efforts to rebuild earthquake-damaged schools. Billed as "a gathering of amazing Mexican chefs and mixologists," the event will feature 24 businesses, including Gerson's La Newyorkina, Casa Enrique, La Superior, and more.
World Food Day
Where: Restaurants in New York and around the country. Check out the full list here.
When: October 13
How Much: Varies.
Speaking of José Andrés's World Central Kitchen: Its fourth annual World Food Day will happen on October 13, with 150 restaurants donating 10 percent of their proceeds to its projects in Puerto Rico and Haiti. In New York, these restaurants include, but are not limited to, Mario Batali's spots, both Frankies locations and their sister restaurant Prime Meats, Roni-Sue chocolates, and more.
This post has been updated with new events and republished.