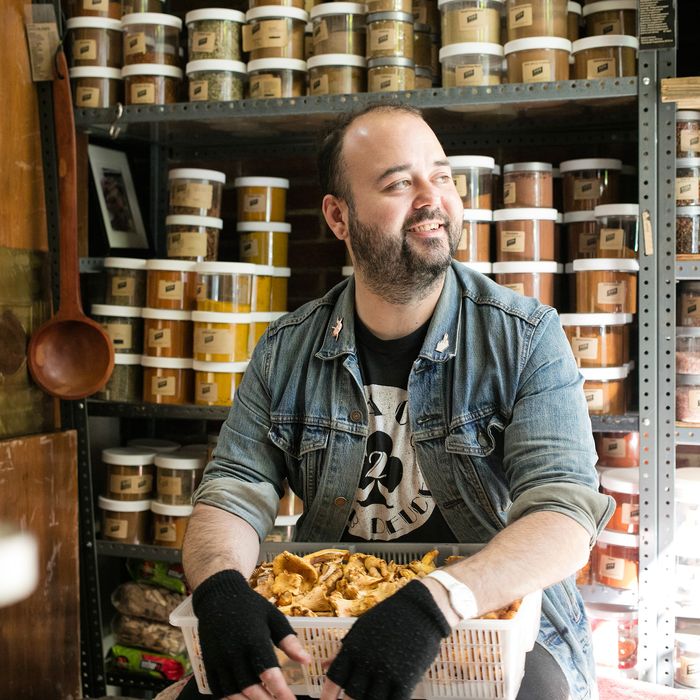 Murray, at SOS Chefs.
Photo: Melissa Hom
One year ago, restaurateur Homer Murray and his business partners opened the restaurant 21 Greenpoint with one of the biggest parties of the year. Murray has spent years in restaurants, first at his family's Murray Bros. Caddyshack in South Carolina and later at Roebling Tea Room. This week, he spent time working the line, going on cucumber runs, and doing the dirty work of testing Champagne for the menu. He also found time to eat a lot of deli sandwiches, drink enough coffee for a racehorse, attend one of his "1 billion cousins' weddings," and check out his dad's show. ("He has this thing he does.") Read all about it in this week's diet.
Thursday, October 12
So let's see. I woke up kind of hungover, and I went to this place called Mario's by my apartment in Greenpoint. It's an amazing, old-school deli like from when I was a kid. I grew up in New York, so this is kind of what I'm used to. They make a sandwich that I later found out is an actual thing that occurs elsewhere on earth. But I didn't know about it until this week, so thank you New York Magazine. It's called the Wonder Woman, and it's a bacon, sausage, egg, and cheese, but then they do this thing. First off, they make an egg and cheese in the proper fashion. They chop up the bacon, crisp it up, and fold that into the egg before they fry it, so it's all up in there! Then they grill the sausage patty on what I perceive to be a whole-wheat bagel because it's good for you. And on either side, they put a huge slab of butter and grape jelly. It's fucking delicious and, obviously, great if you're not feeling good in the morning.
After I ate that, I ran into the GM of my restaurant, and then we ran into this woman about whom I've only heard whispers. Apparently, she's opening a taco place on my block. So I surprised her, saying, "Hey, you don't know me, but I hear you're opening a taco place." And she said, "Yes, it's called Good Move Taco." Which is a good name, because going to eat tacos? It's a good move.
I walked over to Upright Coffee, which is where I usually get my coffee when I don't make it. The dude there and I share similar tastes in music, so we talked about Rob Halford, Methamphetamine, and metal. I had an iced coffee with almond milk, which sounds unlikely, but yeah. Went to the restaurant, where we were trying out some fall dishes, like ricotta gnocchi and tasting wine. I had a couple of glasses; I only tried the white wine, since I don't understand red wine fully. Everything I like in white wine is that it can be put into a pint glass and drunk quickly. So I signed off on a couple of those.
I shoved half a slice of pizza from Family Meal into my face, and then I worked the line. I work sauté; I'm a big boy. I don't really work the line Friday or Saturday night anymore, except when I have to flex. Every once in a while, Tom Brady has to win a beer-chugging contest around the boys. I drank a ton of water, which is true, and at the end of the night I grabbed a handful of kale and sautéed it with garlic. After closing, I stayed at the bar with a couple of servers and watched the Cubs win. At the time, it was a glorious victory.
Friday, October 13
I woke up, went to the gym, and then got two coffees from Café Grumpy. I fucking hate that place, but it's right next to my house. When you walk in, everyone gives you a dirty look if you don't have a laptop and listen to Iron & Wine. I don't do either of those things.
I came home and made breakfast fried rice with an egg, broccolini, and leftover white rice from my local spot, Chinese Musician. Then I chugged a couple more glasses of coffee. I drink a lot of coffee. I make Grady's cold brew and squeeze in this stuff called Onnit MCT oil. It's supposed to make you smart. And, I mean, listen to me. I'm just going to keep shouting out stuff until I get free stuff in the mail.
Then I went to Ovenly, which is owned by my buddy Agatha who has lived across the hall from me for a couple of years. It's right next door to our restaurant and they make this bangin' everything-bagel croissant that I had for breakfast.
On Fridays, I sort of get to work really early, receive all the orders, and put stuff away. We needed some cucumbers for the bar, so I went out, and on the way I stopped at Duke's Liquor Box. My friend Patrick owns it and they make these amazing Bloody Marys in a can, if you know what I mean. Then I stopped at 3 Roots for a durian-and-berry smoothie because I'm a health nut. I also had a habanero-extract-and-oregano-oil shot. It's supposed to taste like a little pizza, so that's good. When I got back, I had another wine tasting. This time with Champagne, which is a drag. I do what I can.
After work, I had a single piece of cauliflower, and then I walked Meg Ryan. Meg Ryan is my dog. Then I ate some Alouette and a Triscuit, which was great, and tried some of my girlfriend's seaweed snacks, which were fucking horrific. I wouldn't wish them on my worst enemy.
Saturday, October 14
In the morning, I had a little Greek-yogurt experience with Naked Granola, it's called "Taste of California." It says it was inspired by "our family trip," and it just makes me sick to think some douchebag got away with selling that. But I bought it because I go to this 24-hour health store, Mr. Berry's, to either buy some broccoli or this granola to just keep myself alive through the week. Also, more Grady's coffee with the Onnit stuff. Then I went to Frankel's. The two guys who own it are cool. I had a smoked sturgeon on an everything bagel with scallion cream cheese, 'cause that's just what you're supposed to have.
Around noon, I went to 21 Greenpoint for brunch. Brunch is like sitting on a beautiful, fluffy cloud versus Saturday night, which is like going to a party. You never really get to appreciate the restaurant when you're working service.
I went to another place and I had a cheeseburger, but I live by these people, so let's just say it was fucking terrible. There was no cheese. The bun was shitty. I hate brioche buns; give me a good old-fashioned potato bun any day. And undercooked fries? God gave you a fryer. Act like it. Jesus. I'm unsympathetic to people who can't figure out burgers. I yearn for this place to be good. They try hard.
After that, I had to put on a goddamned tuxedo. Normally, I work Saturday night, but I had a cousin's wedding. I'm one of six, and my mom is one of six, and my dad is one of nine, so I have a cousin getting married every couple of weeks. Eventually, the Murrays will rule the world.
The wedding was on top of the Rock, overlooking St. Patrick's Cathedral, which was pretty neat, and then the reception was at a place called the University Club, which is just up the street, a bunch of paintings of old white dudes, a lot of that shit. They served us uncracked stone-crab claws, which are by nature's design impossible to get into, so I just sat and stared at them for a while. Then I had terrible mini-falafel balls that were insulting to anyone who has had falafel.
But when I sat down for dinner, I got this perfectly cooked filet mignon, which I never would've ordered in a million years and certainly didn't expect. But there it was! And it made me feel good. They had this incredible band that shredded the entire time, so I danced the entire night away, and I caught up with some family.
Sunday, October 15
More of that cold brew, Onnit, and more broccoli rabe. Went to brunch again and checked stuff out. Then I walked around and went to the Brew Inn and watched half of the Bears game, which is always agonizing and very stressful. They have breakfast tacos there, which I didn't know, but they're really good, wildly out of place, and wildly underrated.
At halftime, I walked around and went to Lake Street Bar, where my buddy Casey bartends. I had soda water, hopped on the G train, and when I got off, I bumped into my friend Sam Mason. He and his fiancée were walking around, so we had a couple of laughs and went to Lady Jay's for the back half of the game. He owns that with my best friend in the whole world, Troy. The day they opened, I walked in and put a $100 down and said, "That's it, I'm never paying for another drink again." It's been financially sound for me. There were two guys out back with a "super-chill-ass service dog," and I'm supposing their safe space is a dive bar with iPhone chargers.
Walked home. It's hard to find good food north of McGuinness Boulevard, but the gold-haired winged ram is Selamat Pagi. The service was flustered, but the food is amazing. I got a corn-and-shrimp burger and then beef rendang, which I always get with a fried egg. In big block letters: I OWN A RESTAURANT IN GREENPOINT AND THIS IS THE BEST RESTAURANT IN GREENPOINT. How about that? I was miserable at the bar, but it's not the restaurant's fault. It's society's fault. I was sandwiched between a group of "Did you take the personality test? You are so driven!" types and another arguing over who got the better sponsorship at Equinox.
Monday, October 16
Gymnasium. Walked Meg Ryan. I was going to get breakfast and I ran into Acey Slade, an old friend of a friend. He was Joan Jett's bass player and is in the Misfits now. So I walked into the recording studio where he was laying down a track with some guy, and after that went to a place across the street called Deli Restaurant. I mean, that's what the name on the sign is. I had the Paesano, which is pastrami, egg, cheese, and jalapeños. My guest, Harry, had two eggs with hash browns and toast. Harry has this really cool technique where he gets his fried eggs over easy and he cuts around the yolk, takes the top off, salts that, and dunks the toast in. I also had Linden's Butter Crunch cookies. You remember those? I used to have those in third grade! Oh, and after that I got some spicy chicken and beef tacos from Bulbap Grill. They make really nice ones; it's kind of Asian fusion.
At night, my dad was playing a show at Carnegie Hall. I don't know how to describe it. There's a cellist, violinist, and pianist, and he sings, does spoken word, and some of it's funny and some of it's touching. I really didn't know what to expect, but it's really fucking good. Then we went to a typical douchey hotel after-party at the Mondrian where nobody was nice to me until they figured out that I was "with the band." I came home kind of late and walked my dog. Got a turkey sandwich at a local bodega and ate a handful of peanut M&M's. They're the best. People shouldn't be able to engage in society if they don't like peanut M&M's. They should be dragged into the street and have their heart cut out like they're a rabid dog.
Tuesday, October 17
I slept in but still had to work, so I went in and worked the line. We had a nice big table that was a wedding proposal. We sent them a bunch of food. After that, I saw Meg Ryan; ate some sour gummies, which were really good; and got a torta Milanesa from La Nortena. I always get an extra side of rice and beans for the next day. And I had a beet juice that I'd be constantly reminded of every time I used the restroom for the next two days.
Wednesday, October 18
I went to Sunnie and Annie's, my very favorite, most favorite-est sandwich place in the whole world. I lived on that block for ten years and have done everything from being eighty-sixed to going to the owner's house for Christmas. I got the roast beef with kimchee and Thousand Island dressing. It's the greatest sandwich in the history of man, and I insist that everyone go try it immediately. I've had it over 600, but less than 1,000, times. My friend Troy introduced me to it.
Then I went next door to SOS Chefs. It's the most amazing boutique shop, run by this woman who I hope one day will take my hand in marriage. I've proposed on several occasions. The first time I met her, I was feeling especially bad and was like, "I don't know if it was the night before or just the culmination of all those nights." She gave me a tablespoon of her own olive oil covered in nigella seeds and made me drink it. And, uh, she touched my hand, and it was like Mother Teresa. She said, "This will cure anything but death." I've been going back ever since.
Today, I walked away with a jar of nigella seeds, a bottle of their vinegar, a bag of these sea-artichoke things that I think I'll pickle for a Martini, and Tasmanian pepper berries. They're more Sichuan peppercorn than actual Sichuan peppercorns. They're spicy and numbing and aromatic and flavorful, and I can't wait to put them on something. I'm chewing one right now, and I'm going to walk my dog and then work the line all night.