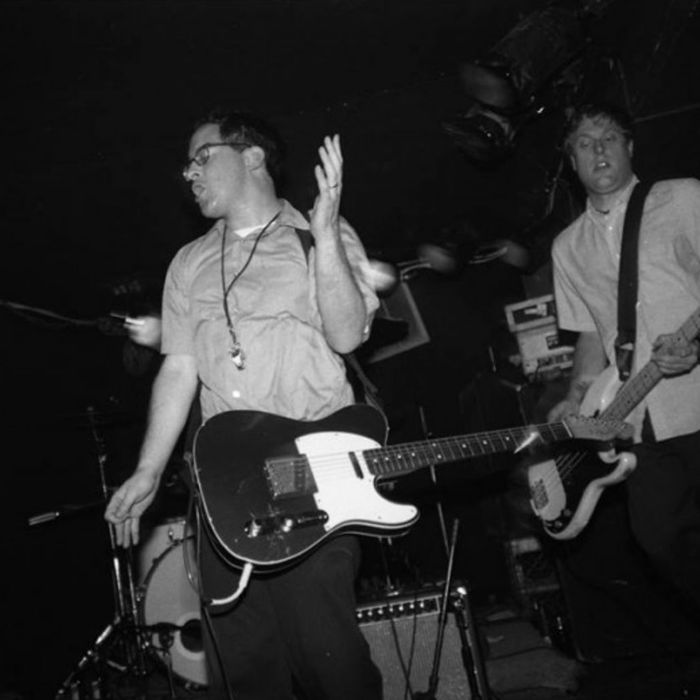 A performance at HiFi by Lifter Puller, members of which would go on to form the Hold Steady.
Photo: Alexis Scherl
Bars and restaurants close all the time in New York. But not all of them play as big a part — or any part at all — in the city's culture as HiFi, the classic East Village rock bar, does. Last night, owner Mike Stuto announced that the bar would close at the end of the month. He confirms to Grub Street that its last day in business is October 29. The news was met with an outpouring of support from regulars, including indie musician Ted Leo, who tweeted about the closing.
Opened in 1989 as Brownie's before becoming HiFi in 2002, the bar hosted seminal modern rock acts — including Spoon, My Morning Jacket, Interpol, the National, and Bob Mould, first of the great hard-core punk band Hüsker Dü. The stage was scraped from 2005 to 2015, but it was also home to an mp3 jukebox with more than 50,000 songs and many, many fans of its own.
In his announcement, Stuto explained that HiFi was closing because, frankly, the neighborhood had changed too much from the crusty-boho place it was when the bar opened to the gentrified place it is now. (He spells out clearly that his landlord had nothing to do with it.) Renovations done earlier this decade didn't bring new life to the old business, as hoped, and he sees the neighborhood's current residents as "mostly indifferent" to his bar. Lizzy Goodman, author of an acclaimed oral history of New York's early 2000s rock scene, described HiFi as "a tether to this neighborhood's faded bohemia." As Stuto tells things, it could no longer hold. He found himself unwilling to change the bar again because, he says, he didn't want to run a place he wouldn't want to hang out in. Saying the writing has been on the wall for a year and a half, he describes himself as feeling bittersweet and having "passed through all of the stages of grief."
"Well, I'm enormously proud of the run, and as far as HiFi goes, I guess it was — it was definitely my living room to some extent, and I kind of designed it that way," Stuto tells Grub. "And I'm blessed. Definitely blessed. I've never had a kid, so this is my kid."