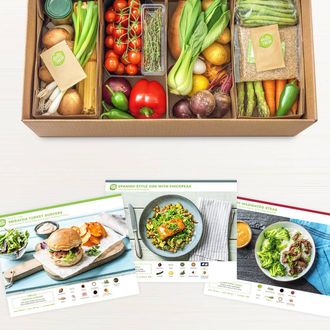 They hope you're hungry.
Photo: Hello Fresh
Not dismayed by news that Blue Apron's shares have plummeted to $5 apiece, HelloFresh has decided that November 2 — four months after its bigger rival's world-historically disastrous IPO — is definitely the right time to offer the public 27 million more meal-kit start-up shares. The Berlin-based company has experienced most of its growth in Europe, but apparently has a good feeling about redoubling efforts in the already-overcrowded American market. CEO Dominik Richter says they expect to "become the clear No. 1 player" in the U.S. by next year. Bloomberg News reports that the company is telling would-be investors, "We have huge momentum in the U.S. market and are poised to overtake our biggest competitor in the near term." The big competitor it's referring to is, of course, Blue Apron, which has laid off 6 percent of its workforce since going public.
HelloFresh sold almost $170 million worth of meal kits to Americans last quarter, up from just over $140 million for the previous earnings period. Even though it's never been profitable, the company predicts that this "momentum" will be enough to overtake embattled Blue Apron by the end of 2018. As a result, HelloFresh has given itself a very generous valuation ahead of next week's IPO — $1.8 billion. This is actually the second time it's tried going public; the first attempt was back in 2015, but it stalled "amid concerns about investor demand." At the time, the start-up's market value was pegged at more than $3 billion, an amount it's obviously since decreased.
Just for what it's worth: Blue Apron's valuation at the time of its June IPO? About $1.9 billion, down from the $3 billion it claimed to be worth just the month before.