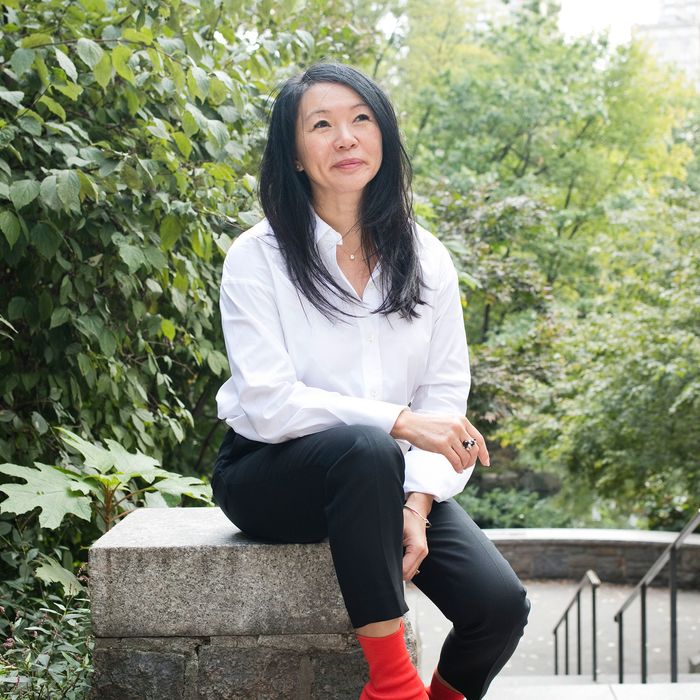 "I started seeing patients during the day and sort of moonlighting as a chef at night, leading this double life."
Photo: Melissa Hom
When Helen Goh was growing up in Malaysia, dinner always required a certain degree of constructive criticism. "At the table, you would not get away with just, 'Thanks, Mum,'" Goh says. "You would have to say what was nice about the food, what you didn't like, and how could she improve it the next time. I mean, every single meal was a discussion."
Goh didn't realize it at the time, but this behavior would inform the two careers she would eventually pursue: psychology and baking. She became so successful at the latter that she earned a coveted role working with Israeli-British chef and writer Yotam Ottolenghi, and now, the two have co-authored a cookbook, Sweet.
For any baker, this is something of a dream job; Ottolenghi has five thriving restaurants in London and international reach through his newspaper columns and best-selling books. In many ways, he's a true celebrity chef without any baggage from cheesy cooking shows. And yet Goh says her path to becoming a vital part of the Ottolenghi empire was "completely convoluted," a tale of multiple degrees, continents, and jobs.
Goh first experienced unexpected baking success early in her career. She was born in Malaysia but raised in Melbourne, where she studied science and psychotherapy. She worked for a pharmaceuticals company, organizing lunches to talk to doctors, until she realized, "I'm actually more interested in the lunch than the drugs." Her boyfriend at the time, a journalist, had just taken a payout, and the two used the money to open a small café. Neither had baking experience; Goh learned by reading Californian pastry chef Emily Luchetti's cookbooks. It didn't take very long for Goh to receive acclaim. "I worked my butt off, and one day, I saw the owner of the local murder-mystery bookshop running toward me," she says. "He was waving the weekend paper. On the front page was my face, with the title, 'World's Best Chocolate Cake.'"
The success, though, quickly turned into a burden. "I was baking 24 hours," Goh says. "With no experience and that big buildup, we just couldn't continue." The couple broke up and sold the bakery, and Goh earned an apprenticeship at a notable Melbourne restaurant, Donovans. On her second day, the pastry chef walked out. Goh was "shoved" into the lead role. She spent seven years there, working 17-hour days, and then decided to return to school for her graduate degree. She was still able to keep her job at the restaurant part-time, and that's when everything clicked: Goh only felt satisfied when pursuing both psychology and baking.
"I started seeing patients during the day and sort of moonlighting as a chef at night, leading this double life," Goh says. "I didn't see why I couldn't keep the two. The pressure was always to make a decision, and I thought, Well, fuck it, why should I?"
In 2006, Goh moved to London. A former boss had told her to look out for a man named Yotam Ottolenghi; his cafés were gaining popularity, but he wasn't yet a household name. She barely listened. "I thought, I need a break. I'm just going to come to London and be a lady of leisure." And yet, on her second day in the city, she visited Ottolenghi's Notting Hill store and felt seduced. Goh emailed to introduce herself and Ottolenghi responded within minutes. The two clicked, partly because Ottolenghi had his own convoluted academic background. Before working as a chef, he had completed Tel Aviv University's "genius program" and wrote a philosophy thesis. Goh only recently learned that Ottolenghi responded to her email so fast because his Australian neighbors had specifically suggested he find and hire her.
Goh started making salads at his café almost straightaway, but felt out of her element. Ottolenghi didn't use recipes. "He worked entirely by his senses, and I had to learn how to develop that palate. It was crazy." Her first task, cutting a whole box of butternut squash, left her hands blistered. "I've never worked so hard." Eventually, she told Ottolenghi that she planned to go back to school for her Ph.D. "I said, 'I think I'm too old for this now,'" Goh, now 51, recalls.
Ottolenghi countered with a different offer: He said he loved her ideas and proposed that she manage his stores and conceive new recipes. Goh agreed, but after feeling surrounded by "a team of boys literally half my age, blasting Fatboy Slim and Eminem," she again tried to leave the company. "I wish I could say that I had the courage to ask for exactly what I wanted, but each time, I said, I'm sorry, I'm moving on," Goh recalls. "And each step of the way, I had people supporting me." Ottolenghi valued her so highly that he asked if she could work from home and develop new products.
"For a time, nobody really knew what I did," she says. "I just sort of cooked and took it to him. If he liked it, I would then work on the recipe and send it out to all the chefs." One of those recipes was a Yo-Yo custard cookie, a staple of Goh's childhood, and it appears as the first recipe in Sweet with roasted-rhubarb icing. Goh could still practice as a psychotherapist and treat patients while baking on the side — an ideal, sustainable arrangement. Then, one day, she casually mentioned the idea of writing a book together. Ottolenghi agreed, and that talk led to Sweet.
The book combines Ottolenghi's signature sensibility — unexpected spices and obscure, exotic ingredients — with Goh's grounded techniques that are suited to home bakers. Take the Anzac biscuits, for example: Ottolenghi used Goh's base, a riff on a recipe that's popular in Australia, and added sultanas, honey, and orange zest. "I start with a foundation, and then we talk and he puts the twists in it," she says. Like any true academic, Goh also doesn't hesitate to credit her sources — two Sweet recipes explicitly draw from Rose Levy Beranbaum's "Perfect Pound Cake." "I'm not going to be silly and start developing a pound cake from scratch when I've got this basis to work from," Goh says. "I don't think there's any shame in saying, 'I got this idea from another person.'" (She had the idea to elevate it with coffee and cardamom.)
"Ultimately, I like simple things," Goh explains. "Yotam is not bound by tradition like I am. If something is French, then, yes, this is the way you do it." All that time analyzing her family dinners plays a role in informing Goh's approach, too. "Yotam and I constantly nudge each other. Whether it's in psychology or baking, the foundation is important to me."