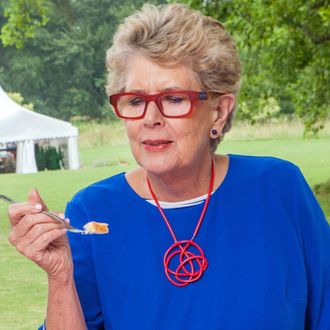 "OMG, Prue! No, baby, no!"
Photo: Channel 4
Chances are pretty good that Great British Bake Off judge Prue Leith regrets getting out of bed this morning. The popular show's eagerly awaited finale airs tonight, but several hours ago, Leith — who, it must be said, replaced beloved veteran Mary Berry for Channel 4's "modern" update on the series — accidentally broadcast the winner to her 12,300 Twitter followers. She's apparently in Asia right now, forgot about the time difference, and casually congratulated the show's new champ in a tweet that started: "No one told me judging a #gbbo final would be so emotional. I wanted them all to win." She ended the message with "Bravo" and the winner's name.
It was an extremely short-lived tweet, and in its place is now a "mortified" apology that was posted just minutes later:
Leith told Britain's Press Association that she's vacationing in Bhutan, where the "time difference is massive." She added: "I thought that they got it six hours ago. I'm in too much of a state to talk about it. I fucked up." This being the modern internet, people eager to see tonight's finale noticed her mistake instantly, and soon it was going viral that she'd spoiled the whole episode, which, theoretically at least, is down to the final three contestants — Steven Carter-Bailey, Sophie Faldo, and Kate Lyon.
Don't click this next link unless you want the finale spoiled, too, but others, like The Sun's Dan Wootton, who has 342,000 followers, retweeted Leith's post in order to say how angry they were, only to then realize they'd expanded the spoiling effect exponentially.
A Channel 4 spokesperson told the BBC earlier today that "Prue has just tweeted an apology to fans. We have no further comment." In an entirely unrelated tweet, Leith also confirmed today that she'll be returning for the next season of Bake Off.