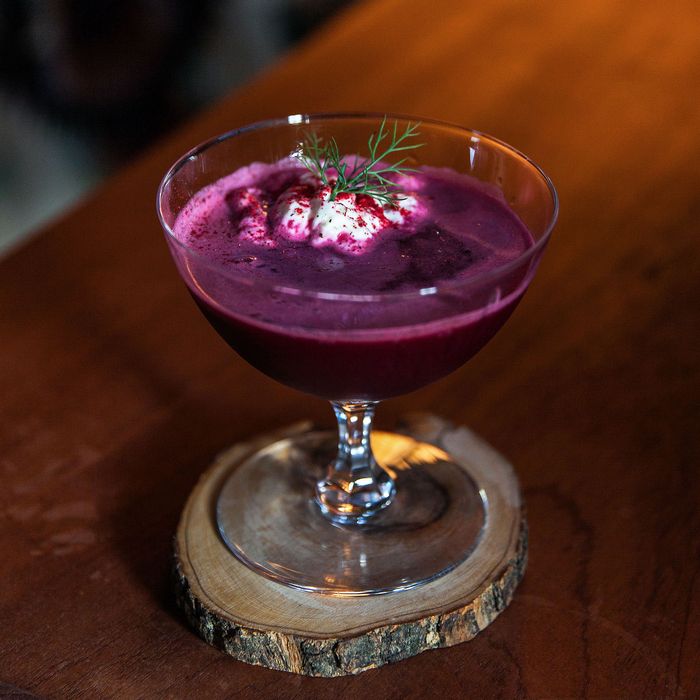 Bartenders look everywhere for drink inspiration, but a simple beet salad might not seem like the most obvious place to start for a new cocktail. Bartender Gn Chan, however, believes you can make a good, tasty cocktail with some of the salad's basic parts, plus a little ingenuity and experience mixing drinks. For his New York Beet Salad, roasted beets are pureed and the juice is added to a shaker with pineapple juice, cranberry reduction, lemon, and white rum. Chan smartly forgoes arugula and goat cheese, instead opting to garnish with a mixture of mascarpone, yogurt, and simple syrup that's charged in a nitrogen canister. It takes on a featherweight texture like whipped cream, is topped with dill, freeze-dried raspberry, and a sprinkle of black pepper and, violà, you've got a beet salad in cocktail form.
On its surface, this sounds like mixology shenanigans gone awry. But Chan's a skilled bartender who spent five years at Angel's Share and won the Bacardi Legacy Global Cocktail Competition last year. The beet drink is good. The beet flavor is subtle and nicely acidic. There's a touch of rum sweetness, and the yogurt-mascarpone cream is something you'd be happy to eat in cannoli.
The New York Beet Salad is the first drink in a three-cocktail menu he's developed for his Road Trip pop-up that he wants to take around the country before opening his own bar. (The other two drinks are a Red Eye Old-Fashioned made with coffee-butter-washed Scotch, and a French Toast Flip that's like a better White Russian meets cereal milk.) Chan test-drove this idea last Thursday at the Brooklyn bar Extra Fancy, serving drinks in a sunny yellow, Instagrammable VW van he purchased off Craigslist. He's outfitted the rig with his bar set-up, a speaker to play music, and a rug that looks straight out of your grandmother's house.
The intimate setting plays well to Chan's strengths. Before he became a bartender, he worked as an industrial designer in his native Taiwan, where he was also, for a decade, a street magician. A natural entertainer, he's effortlessly easy with people and has a eye for unexpected style — evident in his self-described "crazy hair," and floral apron.
Despite Chan's subsequent success, his entry into bartending was accidental. He found himself broke after getting scammed and "losing all my money," so he went to a bar, asked for a job, and loved it. One thing led to another, and he eventually sold all of his belongings and headed to New York. When he does open his own bar — the working name is Double Chicken Please — he hopes to make it an expanded version of the Road Trip: twelve drinks inspired by dishes served alongside 12 bites inspired by classic cocktails. For now, however, you'll have to keep an eye out for the van. Check out some more pics of the space, and the drinks, below.